This addon is compatible with
Microsoft Flight Simulator X
. It should also work with
Microsoft Flight Simulator X: Steam Edition
. Some developers have explicitly stated compatibilty with Steam Edition but others haven't. Check the product description below for guaranteed compatibility. Just because it doesn't mention it, this does not mean it will not work with the
Steam Edition
.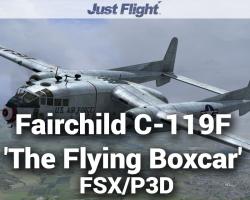 Media Format

Immediate Download

Compatibility

Microsoft Flight Simulator X inc. Steam Edition & Prepar3D (including v4)

File size

3 GB
Making its maiden flight in 1947, the Fairchild C-119 was developed from the wartime C-82 Packet. The twin booms and high-set wing suspend a rudimentary box-shaped fuselage designed to carry large amounts of cargo and parachute troops for delivery to the front line. It is no surprise, then, that the design quickly earned its nickname, 'The Flying Boxcar'. When production ceased in 1955, over 1,100 examples had been built in various configurations, including heavily armed 'Shadow' and 'Stinger' gunships.

This venerable cargo hauler was used extensively in the Korean War, dropping thousands of tons of much-needed supplies and countless parachute troops. It saw service with the US Navy, US Marine Corps, and the USAF. The USAF Strategic Air Command operated C-119s from 1955 through to 1973 and the type saw service in many covert actions, including the aerial recovery of secret film from spy satellites. Many other nations also operated 'Boxcars' and the aircraft also served in civilian guise as a tanker and bulk cargo carrier.

The model includes many special features, including a fully detailed cargo bay, deployable paratroopers and a cargo drop function. The cockpit is authentically modeled and provides a highly realistic flying experience.

Features
High-fidelity models with a huge amount of authentic detail
Authentic cockpit with all controls accurately portrayed and animated
Detailed cargo bay with opening doors
Animated, realistic pilot, co-pilot and loadmaster figures
Highly detailed P&W radial engines with superb stereo sound pack
Animations include all flying surfaces, flaps, trim tabs, and authentic landing gear operation
Detailed Manual and Flying Guide provided
In-game options
A special Configuration facility allows you to set the aircraft for a 'Cold & Dark' start, select cargo options and carry out parachute drops from a selectable 2D panel.
A choice of 'clean', cargo or paratrooper drop versions is provided for creating missions.
Eight liveries and a paint kit
Eight authentic liveries cover examples from the US and international forces
Textures are created using new-technology 'PBR Workflow' techniques, as used in many of today's successful computer games. This brings a new level of realism to your flight simulation experience!
A Pro quality paintkit is provided so you can create your own liveries and paint schemes
Submit a review of this product
Customers Also Purchased