This addon is compatible with
Microsoft Flight Simulator X
. It should also work with
Microsoft Flight Simulator X: Steam Edition
. Some developers have explicitly stated compatibilty with Steam Edition but others haven't. Check the product description below for guaranteed compatibility. Just because it doesn't mention it, this does not mean it will not work with the
Steam Edition
.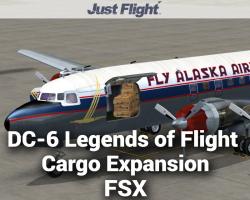 Media Format

Immediate Download

Compatibility

Microsoft Flight Simulator X and DC-6B Legends of Flight

File size

90 MB
Love your Legends of Flight pack but want even more? Then this is for you!
This simple expansion pack has been provided as an easy downloaded edition of the Just Flight DC-6B Legends of Flight add-on.
This is the perfect add-on for anyone who wants to add more to their DC-6B hanger, giving you access to a package that includes DC-6B and C-118A into the cargo configurations. With the additions of six fantastically designed cargo-operator liveries, you can upgrade the old Legends of Flight package once and for all.
This includes six liveries in total which include;
An Events Air Fuel and Trans Air-Link livery for the C-118A Liftmaster.
A Cayman Airways Cargo, Alaska Airlines, MartinAir and British United Airways livery for the DC-6B.
To use this package, you only need to have the following hardware;
A working boxed or downloaded copy of Legends of Flight.
A working boxed or downloaded copy of Microsoft Flight Simulator X with Acceleration of Service Pack 2. This is fully DirectX 10 Preview compatible, also.
A 3.0GHz PC or any Dual Core quality processor.
At least 1GB RAM.
At least a 256 MB graphics card.
Windows 7, Windows Vista or Windows XP.
402MB HD Space.
This is a very useful system to have as it ensures that you have the look and the feel that you would have been hoping for, giving you the utmost level of performance possible. Each of these designs is made to ensure you have a new way of flying the DC-6B in a new way entirely that befits their look.
The Legends of Flight mod is one that really does its best to capture the look and feel that you would have been hoping for, and with this extra you can ensure that you have even more than ever waiting for you here.
To make the most of this mod just make sure you already have Legends of Flight as it is needed to ensure that you can utilize these mods and these changes.
The expansion pack should help you further enhance the level of detail and realism that you tend to get when you use the DC-6B mod. It's a very simple package to get used to begin with, but this just adds even more to it.
Submit a review of this product
Customers Also Purchased