Revolution-X for FSX

2 reviews


This addon is compatible with
Microsoft Flight Simulator X
. It should also work with
Microsoft Flight Simulator X: Steam Edition
. Some developers have explicitly stated compatibilty with Steam Edition but others haven't. Check the product description below for guaranteed compatibility. Just because it doesn't mention it, this does not mean it will not work with the
Steam Edition
.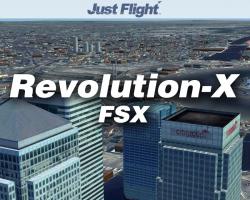 Media Format

Immediate Download

Compatibility

Microsoft Flight Simulator X (SP2 or Acceleration or Gold)

File size

560 MB
Ever thought a flight simulator for the home couldn't give you a real-life experience? Well, that's not the case anymore with the Just Flight Revolution-X for FSX.
This software will give you more than photographic scenery and 2D landscape. Unlike Just Flight VFR Real Scenery and others, it is full of 3D buildings, hedgerows and wooded areas to give you the real feel of being up in the air. It makes you think much more, and even has customized night lighting for different experiences. When you can't really get into the air, this is the simulator for you.
Real-World Locations Just for You
Not only do you get 3D buildings, but they'll also be in their real-world locations. This is no more about creating a space for you to enjoy flying. It's about getting the feel of being a real pilot, whether you fly over England, Scotland or Wales.
While the main towns are formed in other simulators, this is the first time in FSX history that the smaller villages and hamlets have been formed. You can see the real estates and even wooded areas.
Taking the Lighting to the Next Step
You may be used to seeing lights on the runways, but the lighting on Just Flight Revolution-X goes one step further. The street lights will light up when the timing calls for it, and you will also see the traffic lights change colour. It is possible to see when a new area is coming up because the twinkling lights will appear in the distance.
Of course, over the wooded areas and the beaches, you will see darkness but there will be lights from the motorways and lone farmlands when you come across them.
Works With Flight Simulator X
You will need Flight Simulator X to get the full experience with Revolution-X. There is now standalone photography from Revolution-X, so you would miss out on a lot if you just got this download.
The idea behind Revolution-X is that it tells the system where the photographic images from its predecessor need to go, using software to know the locations based on the real-world.
It also works with:
Just Flight VFR Real Scenery
TileProxy/Map2bgl/FS Earth Tiles
Playsims (Horizon Simulation) VFR Photographic Scenery
And other scenery add-on software
No More Featureless Low-Altitude Flying
You will no longer have to deal with the featureless flying when you're at a lower altitude. Before now, simulators have used Google Earth-like projections to create the photography. You will not notice much when up-high, but you do not get the feel when you are on the tarmac, or when you need to fly at lower altitudes. It looks boring, static and just like a computer game.
You deserve a real-life experience. When you add in the 3D features in the real locations, you get that feeling that you are up in the air.
There is also the chance of flying over different types of terrain. Before now, this has all looked basic and repetitive because of the limitations with the software. However, Revolution-X will make the terrain stand out, so you see the different types of trees and will get a different style beach depending on your location. Lakes and streams will never look the same again.
The Features on Revolution-X
This is an instant download and compatible with Microsoft Flight Simulator X.
File size: 560MB
There are 110 of the major airports, military airports and airfields included around England, Scotland and Wales. All taxiways and runways have been placed in line with the real ones to give the best experience.
An instruction manual in PDF format is provided.
Customer Reviews
Rated 5.0/5.0 based on 2 customer reviews
05/11/2014

5

/

5

This product gives a more in-depth feel too your night flying in FSX / FSX-Accelleration, with better night-time scenery,better lighting effects. I bought this product about a month ago and am still in awe, airport approaches have a greater feel, it all depends on your computer / laptop you can set it for greater smoothness so your machine runs the software to it`s full potential on your machine... A must buy if like me you like your night flying....
02/20/2020

5

/

5

Verified Purchase

Just had revolution x easy download and install, really works well, highly impressed with graphics
Submit a review of this product
Customers Also Purchased