This addon is compatible with
Microsoft Flight Simulator X
. It should also work with
Microsoft Flight Simulator X: Steam Edition
. Some developers have explicitly stated compatibilty with Steam Edition but others haven't. Check the product description below for guaranteed compatibility. Just because it doesn't mention it, this does not mean it will not work with the
Steam Edition
.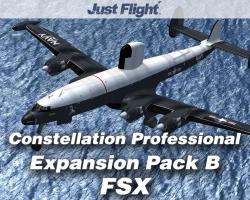 Media Format

Immediate Download

Compatibility

Microsoft Flight Simulator X and Just Flight Constellation Professional

File size

82 MB
This expansion requires Just Flight Constellation Professional to be installed first. You can buy it here.
One of the most important things that any good flight simulation add-on needs to bring to the table is authenticity; it also needs to bring genuine quality. With these excellent expansion packs for the original modification package released by Just Flight, Constellation Professional, you can enjoy a far more dynamic flight experience than ever before. You'll find it much easier to enjoy the ups and downs of any pilot experience when you actually have an aircraft that looks and performs the way that it should.
Whilst the original package brought to life everything that you would hope to see from a good flight simulation product, this adds another layer of variety again to keep you coming back for more. With new liveries to pick from and plenty of extra work added in there within this expansion pack, you can get all the help that you need in arranging a simple and effective look for your aircraft.
The best thing that you can do, of course, is to look at the overall quality of the original package; it absolutely imbues the quality and standards that you would hope to see from any good flight simulation product. By giving you accurate aircraft that look, feel and perform as they would have in the real world you can get the most detailed flight simulation education properly.
Nobody wants to just fly around aimlessly with no real challenge to their decisions and commands; Just Flight are famous for really giving you something to think about. Their aircraft are realistic – brutally so- and make sure that when you take to the skies you'll get a far more enjoyable flight experience than you might have elsewhere. With the help of these kinds of packages, you'll find that flight simulation becomes a far more effective way to learn and actually become a better pilot.
This expansion package gives you new liveries to fly around and makes sure that you have an aircraft that represents a look and style that you would feel comfortable flying as a professional, enhancing the entire experience for you.
What You Get
As the original package includes, you get a fine amount of extra detail in this expansion package. Rather than just sticking with the original lot, you'll get something far more detailed that fits with the usual standards and quality that Just Flight produce. This package is detailed with new aircraft liveries, helping you to really enjoy yourself as you take off into the skies in new aircraft designs such as;
EC-121-K
USN AEW Earlybird
USN AEW Earlybird with radar nose included
C-121-J
US Navy Antarctic squad
MATS
Blue angels – with wingtip tanks only
L-1049 with wingtip tanks
Air Ceylon
Qantas
Varig
KLM – short nose
Submit a review of this product
Customers Also Purchased