SP-5B Marlin for FSX

1 reviews

This addon is compatible with
Microsoft Flight Simulator X
. It should also work with
Microsoft Flight Simulator X: Steam Edition
. Some developers have explicitly stated compatibilty with Steam Edition but others haven't. Check the product description below for guaranteed compatibility. Just because it doesn't mention it, this does not mean it will not work with the
Steam Edition
.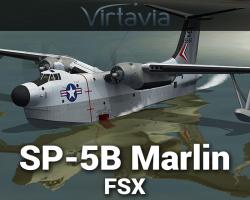 Media Format

Immediate Download

Compatibility

Microsoft Flight Simulator X

File size

139 MB
The name of this aircraft might not come as a surprise to those who have had the pleasure of setting foot inside the cockpit of the real thing, but the fact it sounds close to 'Merlin' should not be discounted. This is an aircraft that carries inspiration from the old PBM-3 Mariner, but was seen at the time of its release as a real magician of an aircraft that was capable of dealing with so many different tasks.
As part of the post-war aviation scene, it manages to carry a huge depth of detail as well as a new range of power its predecessors just could not hit. It came with a re-configured bow as a well as more powerful, refined engines. It served as a brilliant all-weather ASW vehicle and stayed in service for over a decade, having served various aviation firms in various roles from 1953 until 1967.
With this mod, you'll finally get to test out that power and precision closer than you ever have before within a flight simulator.
What's Included?
In this package, you get access to six awesome 2048-pixel liveries all captured in pristine detail and design. This package, for example, includes liveries from;
135516, VP-40, USN, c.1956
5502, VP-40, USN, c.1962
7931, VP-3, USN, c.1962
5542, VP-48, USN, c.1957
1318, USCG, c.1960
'5', 27.F, Aéronavale, c.1959
Key Features
Created with the intention of deliver the Marlin unlike ever before, this model captures the depth and detail of the aircraft and all of its unique features in terms of the shape, design and the overall detail of the aircraft. In fact, this package comes equipped with extremely high quality models built using the native FSX interior and exterior. Everything has been improved and re-mastered so that this feels like the closest thing you are likely to find relating to the Marlin itself – this really does capture the depth and precision and the aircraft and its looks perfectly

An incredibly accurate virtual cockpit has been included so that functionality can be as impressive as the design. With the right kind of features and the correct scale, the whole thing comes together and looks like a true reflection of the aircraft, with everything put in the right order and location. Additionally, authentic gauges and controls have been created from scratch to bring the whole thing together in total harmony, adding a nice layer of realism to the picture and bringing it all together using customized animations that really do capture the feeling and nature of this truly awesome aircraft

These animations included will take care of things such as crew doors and hatches opening and closing, nacelle doors and crew figures all moving around and being fully animated. This adds another layer of spice and magic to the whole aircraft, and with animated hydro flaps included everything looks truly outstanding as you fly

Likewise, a usable beaching gear has been included so that you can easily land on the sand as easily as you could have landed on the tarmac of an airport. The whole thing has been built so that ease of use and versatility are apparent

Customized water spray effects are included so that when you take off you will see the splash and the water around you fly up from under you – it looks fantastic and really does capture the nature and format of this aircraft perfectly, with a real attention to detail being included

Additionally, totally customized engine start-up smoke effects are added so that when you turn the Marlin on you will feel as if you are flying the real thing. These ltitel additions and extras do everything needed to really soup up and strengthen the feel and the effect of the real Marlin, making it feel more apparent that you've taken off!

These extra effects and additions work in perfect tandem with the realistic crew members who have been included, with a period flight gear added in there for more effect. The whole crew looks outstanding with a huge attention to detail included on the way that they look, stand and operate throughout the aircraft. These new crew members are not just extras or an afterthought; they were created to really capture the way that it should feel when you are working with a crew, seeing them all operate around the aircraft

Animated propeller blades which are completely featherable have been added in as well. This is very useful and can be used for a variety of reasons, not least because it looks outstanding. These new animations really do help to sell the aircraft and make it feel the way it should

Not sure where to go or what to do? Then an illustrated user manual that uses PDF format designs is just what you need. This will help you sell the idea to yourself whilst you get used to flying the aircraft, using all of its extra features and the rather quirky nature of the Marlin in general. The whole thing comes together with this manual as you should find no problems navigating and controlling this masterpiece when you are using these manuals, as they explain everything that you could possibly need to know if you wanted to fly this thing properly

Period radial engine sound sets are included, so that you can get the strength of the audio as much as you got the strength of the visuals. This combined perfectly with one another, making sure that you can get the help that you need in really feeling the strength and the power from the aircraft

Do you see yourself as an artistic type? Then you will no doubt love the addition of the brilliant Photoshop paint kit files. These kits will provide you with the depth and the precision that you need to take things that extra step closer to the way that you had originally imagined it would look

Note: Please be aware that NO 2D panels are provided with this as it uses far more effective and detailed designs to begin with, so this process can feel a little different if you are used to 2D rather than 3D panels
Customer Reviews
Rated 5.0/5.0 based on 1 customer reviews
04/24/2018

5

/

5

Verified Purchase

i like to discover less known Aircraft moreover when they have very a specific not to say bizaar structure, good! works on P3D V4!
Submit a review of this product
Customers Also Purchased