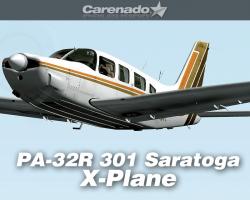 Media Format

Immediate Download

Compatibility

X-Plane 10.40 or higher

File size

153.1 MB
Now version 3.2.
The Carenado development team have created another amazing aircraft, the Saratoga SP, for X-Plane 9.6/9.7, 10.11 and higher. It's available as an immediate download for 32 and 64 bit operating systems. If your looking for a new aircraft for your virtual hangar, this is definitely a solid choice, with Carenado's attention to detail evident in all aspects of the aircraft.
The Saratoga is a later variant of the Piper PA-32R introduced in 1980 and features a 3 blade propeller and the original 'Hershey Bar' tail arrangement. The polygon optimized is very well crafted and I challenge you to find any imperfections. A total of five liveries are included for you to choose from, depending on your tastes. Four different color schemes representing the last four decades, with the most recent being a contemporary livery in light blue with black, and a blank texture for those who perhaps want to contribute their own repaints to the community.
A fully interactive virtual cockpit is where you'll find a lot of impressive features, some of which are just small cosmetic touches, but they add so much to the character of the aircraft. Like being able to operate and reposition the air vents, or the little keyring on the ignition that swings back and forth. The custom VC panel and all the different gauges, have been fitted with dynamically reflecting glass covers, to bring a new level of fidelity and, moreover, depth to the cockpit. The VC also allows you to toggle yoke and adjust your field of view.
Realistic lighting effects, a plethora of moving parts and animated sections, make the aircraft stand out from some of the slightly more static objects, and adds a layer of polish that makes the Saratoga SP a very satisfying aircraft to fly. One animation that stands out in particular, is the prop-disc animation that features smooth transitions in three stages, to squeeze the most realism into your flights.
Original recordings from the real life counterpart of this aircraft, have been used to create vibrant, high quality digital sounds for the model. When paired with accurate flight dynamics, and an authentic feeling regarding the weight and balance, what you get is an alluring flight experience that will stand out against any other.
Now for users of Laminar Research's X-Plane flight simulator series is this stunning Piper PA-32R 301 Saratoga SP aircraft from flight sim developer Carenado. This is Carenado's first X-Plane aircraft, and what a beauty she is. With many advanced 3D effects, flight dynamics and full support of the X-Plane flight dynamics engine, this add-on will not disappoint the high expectations of the X-Plane user.
X-Plane 64 bit compatible.
Polygon optimized model.
IFR certification.
Original Autopilot Altimatic IIIC (Century III) installed.
Original Collins radios and instruments.
Original HQ digital stereo sounds recorded from the original aircraft.
Interactive virtual cockpit.
Full moving parts: Ailerons, elevators, rudders, flaps, multi-stage rolling wheels, and trim tab
Animated sections such as: doors, locks, vents, sun visors with 3D motion, and vibrating antenna.
Lights: Navigation lights, strobe lights, landing lights, 3D cabin lighting, reading lights.
3D modeled pilot and cockpit area.
Many details, such as: pitot, antennas, shocks, cowl plugs, baggage area.
Custom VC panel and gauges with dynamically reflecting glass covers.
Plug-in enhanced functionality and visuals.
Prop disc animation with smooth 3-stage transitions.
Realistic light effects on gauges.
Nightlight effects on panel.
Field of View knob.
Toggle yoke at VC.
Accurately reproduced flight characteristics
Accurate weight and balance.
Included:
4 paint schemes remembering the past four decades: yellow (seventies), beige with red (eighties), navy blue (nineties) and light blue with black (contemporary)
1 Blank texture
1 model
Normal and Emergency Procedures PDF
Autopilot operation manual
Reference document
VC operation manual
Reviews
Man, even the two cans of Pepsi are frosty and layered with condensation! These guys are good! The seats look like the real McCoy, too, and not some sheared sheep's rear end. And yes, the doors all open, the ashtrays too, because here in the cabin the guys at Carenado are starting to show there stuff. The over-the-seat reading lights all work (and individually, no less) and the air-conditioning vents operate too (but alas, I felt no difference in the temperature inside the SIM), and in the end you'll just have to sit back and take it all in and be amazed because there's not often been ACF like this one in X-Plane. - X-Plane10Blog
In all seriousness folks, Carenado's Piper Saratoga for X-Plane 9 is a true gem. It belongs in your virtual hanger along side their exquisite Mooney M20J. The level of detail, both internally and externally, sets a new standard for realism. The flight dynamics are not scary and mimic the real thing (based on one flight in a real Saratoga). The only improvement for Carenado is to somehow bring that unique aviation smell to our desktops. - A Reality of My Own
Submit a review of this product
Customers Also Purchased