This addon is compatible with
Microsoft Flight Simulator X
. It should also work with
Microsoft Flight Simulator X: Steam Edition
. Some developers have explicitly stated compatibilty with Steam Edition but others haven't. Check the product description below for guaranteed compatibility. Just because it doesn't mention it, this does not mean it will not work with the
Steam Edition
.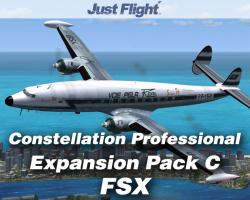 Media Format

Immediate Download

Compatibility

Microsoft Flight Simulator X and Just Flight Constellation Professional

File size

103 MB
This expansion requires Just Flight Constellation Professional to be installed first. You can buy it here.
As you might imagine, getting the little things right in a flight simulation experience is very important. Without the small details that make you really feel and think like a pilot, what is the point in getting involved in the first place? This is what Just Flight bring to the table so incredibly well; they know how to make you switch away from the normal banality of playing a video game and make it incredibly easy to really get the most out of the experience. One of their most recent packages, the Constellation Professional, has been incredibly well received thanks to the massive attention to detail and design afforded by the package.
However, not every package is released fully completed; this new expansion package adds in content that helps to increase the variety and style of your flying. With the original package you receive a huge wealth of features and value, and this package helps to build on it by cementing the massive positives that can be found within the original, and improved them by giving you fresh new liveries to take into the skies with. Variety is the spice of life, and in a flight simulator this could not be any truer!
Whilst everything that was in the original package will still be represented to the same quality and beauty, you'll find that this add-on package complements them perfectly with fantastic new designs and highly authentic liveries based around some of the most important aircraft within the original package. Now, you'll definitely have access to a livery that you feel attracted to and positive when flying; life is so much easier as a pilot when you feel comfortable in the plane that you are flying, so vary up your options with this excellent package!
Expansion packages from Just Flight are always bursting with new content and this one, like its predecessors Expansion A and B, is loaded with new liveries. You'll now have a far more effective looking roster of aircraft to pick from and will be able to find the kind of consistency and quality that we all absolutely love to see in our aircraft simply to adding this package on to what you already had!
It really couldn't be any simpler than that; add this on top of the original and you can augment and vary your flying experience.
What You Get
This package looks to build on all of the goodwill and authenticity of the original package, and ensures that you are getting something far more akin to what you would be looking for in terms of variety of liveries. Fitting with the usual design standards and qualities of the original Constellation Professional package, you can get a truly ideal looking set of liveries that cover all of the following aircraft;
L049A
L749
Western Airlines livery both with and without the speedpack
Delta airlines
L1049H
Northwest livery
Real livery
Submit a review of this product
Customers Also Purchased