This addon is compatible with
Microsoft Flight Simulator X
. It should also work with
Microsoft Flight Simulator X: Steam Edition
. Some developers have explicitly stated compatibilty with Steam Edition but others haven't. Check the product description below for guaranteed compatibility. Just because it doesn't mention it, this does not mean it will not work with the
Steam Edition
.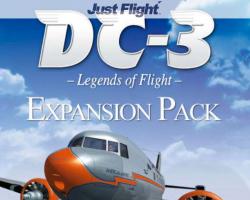 Media Format

Immediate Download

Compatibility

Microsoft Flight Simulator X and Just Flight DC-3: Legends of Flight

File size

168 MB
This expansion requires Just Flight DC-3 Legends of Flight to be installed first. You can buy it here.
This new expansion package brings a raft of new features to the original DC-3 Legends of Flight add-on, giving you more help than ever before to really get involved in the world of the DC-3 aircraft. It comes with seven classic DC-3 airline liveries, as well as three of the popular C-47 brand of aircraft. Best of all, you get access to the Battle of Britain Memorial Flight Dakota 'Pegasus' as well as the 'Spooky' AC-47 Gunships.
Additionally, you'll be able to give yourself the ability to tow the Waco glider – a feature that has been asked for time and time again in the series and has now been brought to you officially.
You'll gain access to the;
C-47 Transport – 95th TCS Snafu Special, the Berlin Airlift and the US army glider tug that comes with the Argonia D8 Al Waco glider
RAF Dakota – Battle of Britain Memorial Flight 'Pegasus'
AC-47 Gunship 'Spooky'
Additionally, you'll find yourself with access to civilian aircraft such as the;
Braniff
BOAC
Brutish United Airways
Buffalo Airways
Continental Airlines
Eastern Airlines
KLM Airlines
This makes it much easier to actually get yourself in shape with these aircraft and learn the genuine features that make them so incredibly powerful. With this package, you ensure that you'll have access to key features such as;
Quality graphics that have been designed from start to finish, using only the most detailed sources possible and hours' worth of footage and research to get everything from the wing span to the window positioning right

Detailed changes that have been made to the composition and style of the aircraft ensure that it moves just as they would in real life. Depending on what aircraft you use, you'll also gain access to a completely bespoke aircraft cockpit that will feel different from the others. Whether it's the Spooky or the C-47 Transport, you'll be able to feel a genuine difference between each aircraft and one another

New challenges come with every aircraft, making it much easier to actually enjoy yourself and get used to the long-term capabilities of every aircraft on their own merits

You'll get access to a whole load of more authentic additions with this package, giving you more control than ever over the aircraft that you are going to be flying. If you are a student or you are intending on using these aircraft in any professional capacity you might want to consider trying out these packages
If you want to get the real authentic, genuine experience from using this kind of package, then this expansion will give you all the help you need to start leaning all you can about the incredible DC-3 Legends of Flight add-on package.
Submit a review of this product
Customers Also Purchased