DC-6B Legends of Flight Expansion Pack for FSX

1 reviews

This addon is compatible with
Microsoft Flight Simulator X
. It should also work with
Microsoft Flight Simulator X: Steam Edition
. Some developers have explicitly stated compatibilty with Steam Edition but others haven't. Check the product description below for guaranteed compatibility. Just because it doesn't mention it, this does not mean it will not work with the
Steam Edition
.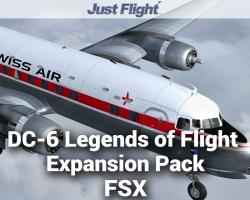 Media Format

Immediate Download

Compatibility

Microsoft Flight Simulator X and DC-6B Legends of Flight

File size

156 MB
Interested in giving your flight simulator a nice little kick in the right direction with some new liveries for the Legends of Flight mod? Then this is the perfect package for yuou!
It gives three major classics of the mod a new look and feel which further improves upon the original. This not only gives you a much clearer idea of what you will enjoy and appreciate from your aircraft but it will make them much easier to fly around in and appreciate thanks to the quality of the work from these liveries.
Each has been based on a historical look and feel, transforming the idea design and format to make it look better than ever. The entire idea of this expansion package is to further improve upon the classics included within the Legends of Flight module. If you already own this and want some new liveries, then you can make use of ten new professionally managed models starting from today.
This includes ten liveries in total which include;
A Northeast Air Lines 1958, National 1961 and Cathay Pacific 1958 livery for the Domestic Day plane 5 window Radar w/o Spinners.
A SAS 195, Swissair 1957 and KLM 1959 livery for the Intercontinental 4 window Non-Radar w/o Spinners.
A C-118B, VC-118B, VC-118B Early and VC-118A USAF livery for the C-118B Military DC-6B.
To use this package, you only need to have the following hardware;
A working boxed or downloaded copy of Legends of Flight.
A working boxed or downloaded copy of Microsoft Flight Simulator X with Acceleration of Service Pack 2. This is fully DirectX 10 Preview compatible, also.
A 3.0GHz PC or any Dual Core quality processor.
At least 1GB RAM.
At least a 256 MB graphics card.
Windows 7, Windows Vista or Windows XP.
622MB HD Space.
Each livery has been designed with historical precedent and accuracy in mind, ensuring that they follow the idea and theme of the Legends of Flight package. This not only massively improves the overall project and makes it look fairer and fresher than ever before, but it masterfully capture that look. The whole project can feel much more open when you use this as well, as the general look and feel is all about adding another extra layer of professionalism.
If you want to give your enjoyment of the Legends of Flight another few years of life yet, this is worth having installed for sure.
Customer Reviews
Rated 5.0/5.0 based on 1 customer reviews
02/11/2017

5

/

5

I like flying the old birds better especially the DC 6, 7 and Electras
Submit a review of this product
Customers Also Purchased