This addon is compatible with
Microsoft Flight Simulator X
. It should also work with
Microsoft Flight Simulator X: Steam Edition
. Some developers have explicitly stated compatibilty with Steam Edition but others haven't. Check the product description below for guaranteed compatibility. Just because it doesn't mention it, this does not mean it will not work with the
Steam Edition
.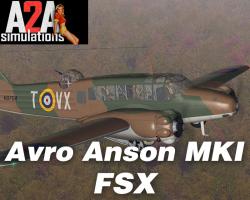 Media Format

Immediate Download

Compatibility

Microsoft Flight Simulator X

File size

237 MB
This aircraft is built for Microsoft Flight Simulator X.
Otherwise known as "Faithful Annie" to those who actually took to the skies in an Anson MMK1, this is one of the most prestigious planes of its day. It's was a dual-engine coastal reconnaissance plane that was used for scouting missions and basic intel gathering. They first were used by the RAF in March 1935, and it was the first plane to be used by the RAF that has a retractable undercarriage. This made it very popular among pilots in the Second World War, with 26 RAF squadrons utilizing the Anson MK1, as well as 10 Costal Command squadrons and 10 Bomber Squadrons. While it was obsolete come the peak of the Second World War, it served a strong early purpose and helped the Allies get past the early stages of the war.
However, its versatility and impressive flying performance made it the ideal plane to become the new RAF training aircraft. It was regularly utilized within the British Commonwealth Air Training Program, which helped many new pilots earn their stripes before taking to the skies in more modern technology. Specifically because of its dual-engine capacity, it was used to train pilots that would be flying a multi-engine bomber as they were a huge asset during the war.
Additionally, it was used to help train bomber crew members like the navigators and bomb aimers, or even gunners. Its obsolete usage on the front lines meant that it was consigned to a back-end job for much of its lifespan due to the quick increase in aerial technology throughout the Second World War. After the War ended, it continued to serve as a faithful aircraft for light transport and training. They were finally withdrawn from all service usage in June 1968. With around 11,000 equivalents of the Avro Anson being created, it was one of the most popular planes in the sky at one point and served the RAF and other services well for many years.
The Avro Anson
Taking to the skies in a modern day aircraft in a flight simulator can be great fun, but sometimes its nice to dial things back a little and fly something a little more traditional. Well, the Avro Anson is just that – it takes away many of the modern features and instead gives you a plane that you can just be intent on flying. This was created long before the dawn of typical aircraft features that you see today, so flying an aircraft that is minimal and features and lets you concentrate on the skies in front of you can be a nice change for simulation fans.
This representation of the Avro Anson is a faithful recreation of the realistic design and style that you would have seen so commonly in the skies all those years ago. The design and shape has been accurate created using a wealth of old footage and images to get every little detail exactly spot on. There's nothing more important than the performance of the plane, however, and with first-hand collaboration with pilots to get the information required this plane flies as close to the real thing as is possible to put within a simulator.
If you want to test fly one of the most important planes pre-Second World War, and prefer the idea of flying something without a whole list of features to learn and master just to take off, then this basic Avro Anson is just what you are looking for. This will give you the same feeling as a real Avro Anson could have, making the most of a variety of key details & features that really stuck out to give you the closest thing possible to the real aircraft.
Key Features
HD resolution textures have been created from scratch. By using old footage of the aircraft in action, as well as faithful image and accounts from those who have actually flown an Avro Anson, every little feature and addition has been closely represented. Nothing has been left out of the shot, and the smallest details have been included to give you the full depiction of the aircraft as it would have looked in real life. By taking the simulator to its graphical limits, you can enjoy aircraft that look far more like the real thing than the original simulator can provide

Naturally animated crew members have been included as well. The Avro Anson needed more than one person in it to fly effectively, and we give you a life-like navigator to come with you on the float to really guarantee you feel as close to the real Avro Anson as you possibly can

Four paint schemes are included which were literally used in real life – with colors matched up and designs accurately recreated, you can fly around the world in one of the genuine designs that was so popular during its heyday!

A paint-kit is included as a separate download, as well. This lets you create your own paint styles and designs for your Avro Anson so that you can fly around with your own colors on – you don't need to take the realistic designs, and can use any color scheme or style that you want with

A total reworking of the cockpit system has been included, with every gauge created with a true representation – they all work in clear 3D and can be read with nothing more than a quick glance to see what it says. This makes concentrating on the sky in front of you much easier, with quality gauges included to guarantee your flight is as easy as possible

The cockpit also includes a full list of 100% working and functional instruments. This lets you use any and every button that would have been available to a real-life Avro Anson pilot, giving you maximum control over the aircraft as you fly through the skies. Try out every feature & function safe in the knowledge that you aren't just clicking a texture, and that you will receive a response from the plane
Submit a review of this product
Customers Also Purchased