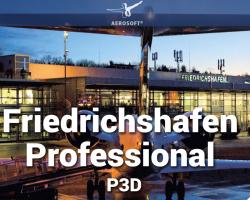 Media Format

Immediate Download

Compatibility

Prepar3D v4

File size

178 MB
Once a barren and empty looking part of the German aviation scene, P3D v4 users can change that. Now, a trip to Friedrichshafen is sure to provide a much more welcoming, wholesome experience. This new and improved model helps to add a greater depth and detail to the airport of Friedrichshafen. From uplifting the air base to P3D v4 quality levels as well as modernizing the airport, everything here will feel different.
For one, impressive new layouts and building selections make a visit to this airport hugely enjoyable. Add in the new and improved navaids, runways and taxiways, and getting around here is very simple. The photorealistic ground textures also allow for a far more immersive atmosphere to envelop the airport. Lighting changes, the dynamic scenery is improved and there's a far livelier, interesting atmosphere about the airport as a whole with this release.
You'll even get to see the Zeppelin that hovers over Lake Constance during the Spring and Autumn. This helps to add an extra touch of energy to the entire region, creating a more noticeable atmosphere and design right away. With many years of hard work and experience put into the development of this virtual airport, you should be able to enjoy Friedrichshafen like never before.
P3D v4 Changes
Specifically, P3D v4 users can enjoy:
An immense coding change that makes sure that optimization in accordance with the new P3D v4 SDK is possible.
Optimized changes to buildings, with layout, structure, textures, and shadows all changed to fit with the new standard.
Better ground layout and aerial imagery ensuring you are left with a professional take on Friedrichshafen. Ground adaptions are designed to blend in with different mesh packages.
3D runway lighting has been changed and improved, with activation/deactivation made easy during the right time of day. Apron lamps further help to improve lighting.
AFCAD approaches have been adjusted to fit with Airac 1708.
Key Features
A new and improved look to the airport, with detailed alterations ensuring that nearby parts of Friedrichshafen alter to fit with the new look and style.
Highly detailed, high-resolution photorealistic textures allow for a much better sighting of the airport, with aerial imagery maximizing the attention to detail.
3D modeling has been developed for all airport buildings and features. This includes new night-time effects and also improved navigational aids to ensure you can land regardless of time.
Accurate runway and taxiway lighting further help to improve navigation and safety when flying.
Many new and improved scenery changes are included to help blend everything together for a more seamless, realistic looking Friedrichshafen.
This includes seasonal ground textures which help to add extra realism to the airport. Now, arriving in the winter won't feel the same as if you turned up here during the winter.
Get all the help that you need with the included manual in German and English. Now you can learn all about Friedrichshafen and fully understand how the airport operates.
Submit a review of this product