This addon is compatible with
Microsoft Flight Simulator X
. It should also work with
Microsoft Flight Simulator X: Steam Edition
. Some developers have explicitly stated compatibilty with Steam Edition but others haven't. Check the product description below for guaranteed compatibility. Just because it doesn't mention it, this does not mean it will not work with the
Steam Edition
.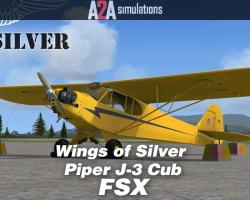 Media Format

Immediate Download

Compatibility

Microsoft Flight Simulator X inc. Steam Edition

File size

162 MB
The Piper J3
Without a doubt, the most enjoyable aspect of flying an aircraft is being able to take them into the skies and actually enjoy their unique and engaging styles – flight simulators allow us to try aircraft out that simply would be impossible to fly in the real world.
So, it's always nice when a flight simulation package introduces something a little different to the table, usually in the form of an old-school aircraft that nobody has been able to fly for quite some time! This package brings the bite-sized Piper J3 to the table, giving you a chance to fly an incredibly poplar aircraft that's never really been taken on before.
Distinct in its unique shape and bright yellow color, the Piper J3 established itself as a key player within the light aircraft world quickly, and since then has really become a name to remember throughout the history of these kinds of aircraft. It's small style and diminutive nature meant that many pilots enjoys its comparative ease of flight when you look at many of its competitors at the time; for beginner pilots, they were one of the most useful creations of the era.
It was seen almost as the Ford of aviation at one point, allowing for affordability and easy creation along with a simple level of usage meant that these little aircraft exploded in number. With more than 20,000 build across the globe, and more than 19,000 in the USA alone, the Piper J3 is well remembered for many reasons – its old-school "stick and rudder" flight style being chief among them.
It took away many of the requirements that aviation originally required in the way of extras, and made it nice and simple for pilots to hop into and take off in – for anyone who wants to enjoy a new experience in FSX, this is well worth trying.
The project is part of the Wings of Silver package released by A2A Simulations, one of the most popular names among flight simulation fans. This is because of their attention to detail in all modifications released, as well as their capabilities to make even the most delicate of additions and improvements to the actual flight engine itself.
With this little aircraft, though, you get that really minimalist flying experience that can lacking at times with modern aircraft; with so much to think about, it can become more difficult to just enjoy the actual act of flying as you are supposed to!
Well, the Piper J3 brings back the enjoyment for many people – if you want to experience aviation unlike ever before, through the eyes of a true piece of aviation history, then you absolutely need to try out this wonderful piece of kit. It's made for those who really love flying, and really want to experience those little quirks and dips that you simply aren't able to enjoy normally thanks to the far more balanced aircraft that we have available today.
Key Features
Remade to fit the exact models and specifications of the real thing – if you want to see something truly outstanding, then this is the place to be. Like any other A2A Simulations product, this carries the most detailed aspects of the real thing and puts them into the most impressive body possible; everything that could be realistically included has been, making sure the aircraft acts and looks just as its real-life counterpart would have!

Made by pilots, for pilots. The dynamics of the aircraft are absolutely spot on, and are made to give you a whole new level of realism – even he spins and stalls that aircraft of this time were infamous for will be apparent as you fly through the skies, partially impeded!

Comes with nine unique liveries as well as the original model itself in its stunning yellow color; you'll have more control than ever before over what you are flying and how it's going to look, making having an aircraft that looks the way that you always wanted much easier than it was with previous flight simulators

A full pilot manual is include that can be read in PDF, penned by the excellent Mitchell Glicksman. This will give you access to all the information that you could possibly need to take this into the skies and do real damage with it – flying an aircraft and getting the most out of it has never been so easy once you read this step-by-step manual

A real-time load manager that makes your life much easier – now, you can make changes to the aircrafts load as you fly, making t easier to alter things like cargo and passengers without having to exit out constantly and make changes

A single code-base that is provided for both the Service Pack 2 and Acceleration add-ons, giving you 100% of the features in both of these editions. No matter what version of FSX you are actually using, you'll be able to get the most impressive performance possible!

A handy cockpit map can be found for helping you navigate the skies – you might be missing he luxuries of the modern aircraft with GPS systems and trackers, so you'll need to be using your wits and becoming a more rounded, grown individual to get this just right!

Fuel delivery systems have been perfectly recreated so that your aircraft actually goes through the real-life motions; you won't just magically be refueled as you go, helping to keep the entire experience as alive and as enjoyable as it possibly can be

Made using the authentic materials – if there was a specific kind of metal used in a specific part, it's been included. Everything that has been included in this package has been of the result of hours' worth of research, verification and then editing to make sure it looks, sounds performs just as you would have expected it to
ACCU-SIM Add-on
Simulation is all about being able to get that realism and that challenge – when you just want fun; you have more traditional video games that you can play. They usually strip away a lot of the things that some might consider – to the true aviation fan, though, these are the things that make flying so interesting; and this is what ACCU-SIM brings to the table.
As a long standing part of the A2A Simulations portfolio, this is one of the most prominent mods out there at the moment for the web – it helps to change the entire theme and style of flight simulation, and introduces so many unique little twists into the experience for you.
The best thing about ACCU-SIM is that is introduces the chances for real-life failures to take place; this might sound like a negative, but it really changes how you will fly. Instead of just gunning it down and hoping for the best, you'll now start to see your aircraft shift and react to these changes. If you are putting your aircraft through too much pressure and not giving it enough of the right balance during the flight – just like a real pilot – then you can expect to see a lot of failures and problems occurring.
Many of the features that ACCU-SIM brings into play are quite minimal – some of them so small you might not even notice them – but when all of these go together, you get a truly exhilarating experience. It adds another few layers of realism to the whole thing, and makes it so much easier for you to actually get involved in – it makes actually enjoying the simulation a lot easier. So, if you are finding that FSX no longer poses the challenge that it once did and you are sick of the easy and somewhat unrealistic way that the flight simulator can work from time to time, then why not look into using this ACCU-SIM package as well?
However, whilst it ACCU-SIM ups the intensity and concentration required, it's by no means for experts only. If you are looking for a way to actually enjoy yourself and really find a new edge to your flying abilities, then you need to try this out. It's the strongest and most reliable flight simulation add-on there is for adding in small features you always wanted to see but didn't think you would; it's made by pilots, and helps to cram in the full experience into a massively enjoyable flight simulator.
It's almost like a new game on top of FSX; and the amount of small changes that are made both globally and for each aircraft to make them truly 100% authentic is absolutely amazing. If you want to take your experience and your education to that next level, then you really should consider picking this up – it's the perfect way to keep moving forward, and making sure that you are developing the kind of aviation education that you hoped you would receive with FSX.
ACCU-SIM Features
By totally re-integrating the world that FSX operates in, this package helps to build something entirely organic that works with every property of the world around. Everything from the way that the wings are being angled to the speed it connects with the water or ground has been completely reworked for total accuracy and control

Ground physics have been re-mastered, too, to ensure that your tail will start to buck and wings will shake just as they would in the real world. The way that your tires handle the ground will now depend on the texture they are landing on; so you'll need to prepare better than ever for handling takeoffs and getting the most vital sections dealt with

ACCU-SOUND has also been included, which totally alters the way that sound works within the game. It now means that physics will play a genuine role in how the sounds will be relayed back to you, making it easier than ever before to actually understand what you are hearing and where it is coming from – everything from your nails rattling to the doors slamming will now be heard better than ever before with hours worth of source audio used for this

Passengers now sit on-board your plane with you and actually take in the world around them; they aren't just static models that face forward like a set of hostages. They'll actually work with the world around them and hugely enjoy the view that they are seeing – giving a whole new layer to the actual interaction you get with the world around you when you are flying

Water physics have now been improved massively to allow for things like waves and water dragging, adding yet another excellent piece of the puzzle. Looking to see the world around you feel more realistic than ever before? Then this is the easiest way to do it!

Fuel systems have been reworked as well now it works just as it would in the real world so you'll need to actually prepare your aircraft in the same fashion that a real-life pilot would be doing!

Cockpit experience has been revamped entirely specifically for this aircraft – with such a level of history in here, it only made sense to make everything stand out as much as possible. The attention to detail on even the smallest and most seemingly insignificant details will help make the whole ACCU-SIM experience come together

An incredible attention to detail and realism, helping to capture the true spirit and heart of the aircraft. You'll get to notice the older quirks like a sputtering engine and an aircraft that becomes damaged easier than others, but you'll get to see the massive benefits of the truly outstanding quality of aircraft when it finally takes off; no more virtual cockpits that can confuse you, as you get the "real" flying experience!

Every last detail has been included to make sure that your experience in a Cub is as impressive as it possibly can be, taking massive care to include all of the smallest details that might seem insignificant but really bring the entire experience in together
Manuals
Submit a review of this product
Customers Also Purchased