This addon is compatible with
Microsoft Flight Simulator X
. It should also work with
Microsoft Flight Simulator X: Steam Edition
. Some developers have explicitly stated compatibilty with Steam Edition but others haven't. Check the product description below for guaranteed compatibility. Just because it doesn't mention it, this does not mean it will not work with the
Steam Edition
.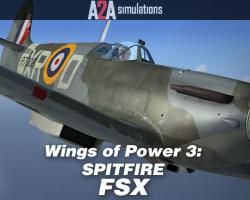 Media Format

Immediate Download

Compatibility

Microsoft Flight Simulator X inc. Steam Edition and Prepar3D v4

File size

162 MB
The Supermarine Spitfire
Looking across aviation history, you might struggle to find an aircraft that is as well-known as the Supermarine Spitfire. Although it may have served before the majority of the livings worlds lifetime, its deeds during the Second World War and afterwards have helped to etch it into the minds of aviation fans ad scholars all across the world. For those with an itch to get into the skies and see what the world has to hold for them in the cockpit of a Spitfire, this package might just be what you are looking for.
Produced by the immaculate A2A Simulations, you'll be getting access to one of the most formidable fighters in military history, having helped to compete with some of the more devastating attacks that the skies have ever witnessed. Having borrowed the monocoque design that was making waves in the United States, R.J. Mitchell had incredible commercial success with his new jet – it's incredible design still looks impressive even by today's standards, but was also a crucially useful tool in the field of battle.
When it came to taking on the enemy, the Spitfire held nothing back and gave every bit as good as it got! Now, you can hop into the cockpit and see how it feels to fly one of these awesome packages thanks to the Wings of Power 3 packaged released by A2A Simulations.
The sheer strength and power of the Spitfire wasn't let down in any fashion, though – especially not by the weaponries accuracy or the aircrafts ability to get out of a tight spot. Back in the day before heat-seeking firepower, aircraft had to be every bit as skilled as the pilot to make it out of there alive; well, the Spitfire provided any pilot who jumped into the cockpit with a chance of making it back!
Lethal and unforgiving in the air thanks to its combination of speed, power and resistance the Spitfire was capable of unleashing massive damage on the German opposition that it came up against, and was a massive part in the reasons why the Allies were able to actually turn the tide of the war in the first place. Air superiority was of massive importance to whoever was going to win the war; thankfully, it was the Allies who were capable of winning the war – and in no small part to this absolute maverick of a fighter.
If you like your aircraft to arrive with more personality and grit than the pilot themselves, this might be just what you are looking for. This by-the-book recreation of the Spitfire is one of the most enjoyable fighter re-creations on the market, especially for war historians and enthusiasts of old-school aircraft that want to see how much aviation really has changed. The cockpit might feel a little strange at first, but you'll be able to get used to it being stripped down when you see the sheer raw power it holds!
Key Features
This aircraft flies exactly as it did in the real world – if you are looking for authenticity, you will it here in abundance. Everything has been made by-the-book so you'll get the closest thing possible to the real aircraft when you take off. No minor detail has been spared here!

Constructed with hours' worth of footage, research and testing put in place. This is the finest remake of the Spitfire seen so far for an aircraft simulator – if you want the full experience without any holding back or second chances, and then this is the perfect mod for you to try

Everything from the way that the aircraft moves to how it reacts to what you ask it to do has been made from scratch; the custom gauges on the cockpit will flicker up and come alive as you input commands, and the animated pilot inside will start moving to interact

A real-time load manager that allows for simple and quick loading of new stores without having to exit the game. Now, you don't need to leave your current flight simulation experience to make some minor changes to your aircrafts inventory – you can do it all from the one location, mid-flight!

3D lights built to create not just a better and more authentic atmosphere, but to help you see well. The under-wing landing light is also optional for those who want that full dose of authenticity from their simulation attempts with he Spitfire – every light you need has been faithfully included

New sounds made using hours' worth of audio footage of the aircraft in action; this makes it so much easier for you to actually get a bearing on what you should be hearing and what you will be hearing – everything has been made to sound exactly as it should in-flight

Oil pressure system has been created to be included for an extra dose of realism – looking for your aircraft to really hit top marks and feel the part? Then you need to use the fantastic oil pressure systems that have been included; they add another fine layer of realism for you

A handy pilots map within the cockpit to make sure that you can fly around with all the freedom in the world; you'll never need to find yourself getting lost again – you might be used to GPS but this map can be just as useful for a resourceful pilot!

A variety of models are included – some come with cannons – the Mk IIb – whilst the other models come with machine guns. This lets you fly around the skies in different versions of this unique aircraft, making it easier than ever to get around in an aircraft that you feel comfortable in

All of the key features and details that you would hope to see like fuel delivery and flight dynamics have all been faithfully included; no matter what you need, this package will deliver it. For Spitfire fans that need to see the real power and velocity of the aircraft, try here!
ACCU-SIM Add-On
This package isn't just the aircraft on their own, however. A2A Simulations are well-known for their hugely impressive ACCU-SIM package, which has become a piece of flight simulation folklore. For those who are finding the world of FSX little too simplistic for their own tastes, you might be happy to learn of the existence of ACCU-SIM. This does pretty much what it says on the tin; by providing you with a much more challenging and authentic flight experience, you'll be able to enjoy your time in the skies better than you ever have been able to in the past.
This adds a unique challenge to taking to the skies, as it brings all of the traditional rules that FSX plays by. It brings in so many different aspects of flying into play by introducing the frightening prospect of reality to proceedings – after all, flight simulation was built to be a realistic take on actual flying. So, where's the variation? No two flights are ever the exact same in the real world and it's vital that a flight simulator is able to actually replicate that feeling accurately. This is what ACCU-SIM works to do; it rebuilds what's actually real within the flight simulator.
This is incredibly important, as it can help to revamp the entire experience. One thing that this does not do, though, is make the challenge too difficult. It simply adds more layers of realism and authenticity to the proceedings – no longer will you be able to get off lightly with a key mistake, or take from a snowy airport in the same way that you do from a lush and well maintained grass airport. Everything changes entirely when you start using ACCU-SIM; the extra lick of paint that it gives everything in FSX is hugely welcome.
Now, your aircraft will actually feel like it would in the real world – alive. It will no longer just be a shell that responds to the presses of your pad; it will genuinely react to everything you ask it to do. If you are pushing your aircraft too much, it will let you know in the most uncertain – and sometimes fatal! – Of terms. So, for any pilot who feels like they are able to take control of a notoriously challenging aircraft and get it mastered within a few hours, this might be what you have been searching for – a fresh challenge!
ACCU-SIM asks difficult questions of you, ensuring that you'll need to go that extra mile to get the right kind of solution to every flight. What worked for you last night might not work at all today; it adds a unique element of risk to proceedings, and can make it easier than ever before to actually enjoy yourself when it comes to playing a flight simulator and getting the most out of it.
So, if you want to take things to the next level and see how an aircraft really would respond to command you previously felt comfortable with, try this out!
ACCU-SIM Features
A legitimate propeller simulation is introduced for the first time; a flight simulator shouldn't really be without this, although it's sorely lacking in the vanilla FSX! This adds a whole new style to flying and can be a massive change, and challenge, for those who are used to normal flying styles

You'll actually be able to get the same sensations and responses as you would have in the real-world – this has been made by pilots, and encapsulates every last challenge and reward that you would be likely to come across in the actual cockpit itself

Speaking of the cockpit, this is one of the most impressive changes that ACCU-SIM brings to the table here; it gives you all of the most detailed features that you could need. By bringing together everything from the way that the sound emanates throughout the aircraft as you fly to how the actual cockpit responds to your directions, this changes the entire cockpit experience for most

Maintenance hangar awaits; if you have taken some damage on a rather risky flight, you can repair up here and get your aircraft back into full working condition for the next flight out. This can be incredibly useful, and will help to get your aircraft into the best shape possible for each flight you take; after all, ACCU-SIM records your aircrafts condition for next time!

Get to see in real terms how an aircraft of this power and stature would perform in the real-world – every last detail that can be included to make the flight experience feel totally unique has been included, adding another layer of depth to the entire simulation experience

No two flights will ever be the same with ACCU-SIM – it adds the lovely ability of unpredictability to proceedings, which will make or break you as a pilot! These are he challenges that you need to be prepared for, and ACCU-SIM will bring them to you in the most realistic manner that it possibly can

Now, real-world issues will start to affect your aircraft as you fly; you'll start to see things like airflow, density and even the temperature start to affect performance and the condition of your aircraft; make sure you start to keep a close eye on the vital signs of your aircraft as pushing too hard can see you plummet!

Failures are now possible; push that aircraft beyond its breaking point and you'll never be able to recover. This is far more realistic and creates a whole new edge to flight simulation that, although challenge at first, totally revolutionizes the experience for anyone who takes it on

Combustion engine modeling has been included with all ACCU-SIM models; now, the air comes in to ignite with the fuel just as it would in a real engine. This creates the authentic sounds that we all love to hear, and makes sure that your gauges will be telling a similar story!

No stone has been left unturned in the quest to make this truly authentic
Manuals
Submit a review of this product