Gee Bee Super Sportster for FSX/FS2004

2 reviews

This addon is compatible with
Microsoft Flight Simulator X
. It should also work with
Microsoft Flight Simulator X: Steam Edition
. Some developers have explicitly stated compatibilty with Steam Edition but others haven't. Check the product description below for guaranteed compatibility. Just because it doesn't mention it, this does not mean it will not work with the
Steam Edition
.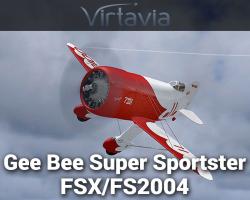 Media Format

Immediate Download

Compatibility

Microsoft Flight Simulator X & Microsoft Flight Simulator 2004

File size

158 MB
Wonderfully shaped and comically designed, the Bee Gee Super Sportster is an aircraft that tends to bring a lot of positive memories and love to the surface. As one of the prides of old-school British aviation, the GB Sportster did not take long to reach mild popularity thanks to the hard work put in by the innovative Glanville Brothers.
Its hilarious shape and design put it at odds with many other conventional aircraft, especially modern designs, and this meant that many people would be unsure of where to even start when trying to learn how to fly this interesting model!
One of the main things about the design of the GB Sportster, though, was the fact that it was so tricky and advanced for the era. Many pilots mentioned that they struggled to control the flight and make the landing safely, making it notoriously difficult to fly with and thus fare more difficult than ever before to handle!
However, the aircraft came with a significant pedigree and despite its limitations and challenges it has successfully gone down in the folklore of British aviation, designed as a long-term solution that people will love being a part of with this mod.
As a full remake of the real thing, it's now easier than ever before to get into the cockpit of this little machine and absolutely love what you see when you get started. It comes with various changes and improvements which, when used in a simulator, can be incredibly fun!
Included Changes
Whilst this mod does everything it can to recreate the real thing, this mod also uses various other little bonuses and features to make sure that it looks as good as it performs. This means that many liveries and add-ons were included, which include the two new model variations with unique handling and styles. These are;
R-1, #11, NR2100
R-2, #7, NR2101
This manages to recreate many aspects of the real aircraft, too, which greatly improves its level of control and enjoyment for anyone who decides to hop into the cockpit and see what all of the fuss might be about! Important changes and additions to this include;
A new FSX model which is fully available and comes with all of the charm and style of the real thing, utilizing every FSX feature to make sure it carries the true hallmarks and formats of the real thing to provide utmost levels of realism throughout.

The model comes with the additions of bump mapping, self-shadowing and bloom FX to help bring it all together and look the very best it can.

Self-shadowing is not just exclusive to outside the cockpit, though. This comes inside the cockpit to make the Virtual Cockpit look better than ever, creating the most authentic look and feel possible inside the cockpit.

2048 pixel designs which look outstanding and do everything need to carry the right look and feel to the surface, ensuring that the rest of the aircraft carries all the landmarks it should.

A new and highly authentic range of cockpit animations which look spectacular and do all that they can to also improve performance. With various features fully accessible when using the virtual cockpit you'll find it much easier to manage the flight as more options are now fully mousable inside.

Utilizes the popular REAL GAUGE technology, some of the most effective and powerful tools ever used within FSX, to help put together a truly unique range of features and options which greatly improve the range and the realism of the aircraft.

Every gauge included within the REAL GAUGE settings are included to provide you high operational standards at the same time as providing you with a high FPS count, this leads to a much smoother level of performance than most people will be used to when they are flying around in simulation.

Night-time illumination is included throughout the design as all gauges are made easy to spot when you fly around, improving visibility and usability massively.

New virtual cockpit gauges are included with 3D models added in there, making sure that all working factors are designed in 3D such as needles, flags and much more. This makes the whole aircraft looks far more authentic in design.

New gauges are all fully mousable with all switch parts made to work in the most effective manner they can.

Flight dynamics have been reworked entirely to give you the most authentic design that it can, ensuring that the aircraft flies with all of its limitations included faithfully.

A 27 page PDF manual which is easy to read and enjoy, helping you become a much better pilot.

A brilliantly designed pilot figure with animations which match the input of the user.
Note: There is no need to use 2D panels, as this provides you with a minimal selection of bitmap choices to use.
Customer Reviews
Rated 5.0/5.0 based on 2 customer reviews
11/06/2015

5

/

5

A friend purchased the Gee Bee for me as a gift and I was unsure what to think – it just looked so silly. An aircraft from this far back in history did not really interest me but as it was a gift I decided to give it a try and humor my friend – what I did find, though, was that it was one of the most interesting projects I had used in my flight simulator for some time. It felt really interesting and with the awesome cockpit style it was nice and easy to fly in comparison to other models of the same style.

What I did find really interesting though was the detail put into the textures – for such a small aircraft it has a huge range of detail on the model. The depth of the model was really impressive as well, as it managed to capture the detail of the actual model perfectly whilst making it nice and simple to understand what part of the model was supposed to be doing what.

In general, the whole package worked out really well for me as I felt like everything that was added was a lot of fun, and created a nice and easy way to enjoy the aircraft in a way that many of its similar packages simply would be unable to do in the future – this makes life a little bit easier for everyone who is into this aircraft I would imagine as it seems to be authentic.
01/04/2017

5

/

5

Verified Purchase

Right out front I knew that the Steam Edition was not listed under compatibility, it installed with no problems but it is not listed within the aircraft available and I restarted as well to make sure the install was complete. This is a plane I have loved since I was a kid, the graphics of the plane are fantastic and the price was worth the risk. There is a Gee Bee within Steam but the reviews are not good, oh well.
Submit a review of this product
Customers Also Purchased