Granville Gee Bee Model Z for FSX/P3D

1 reviews


This addon is compatible with
Microsoft Flight Simulator X
. It should also work with
Microsoft Flight Simulator X: Steam Edition
. Some developers have explicitly stated compatibilty with Steam Edition but others haven't. Check the product description below for guaranteed compatibility. Just because it doesn't mention it, this does not mean it will not work with the
Steam Edition
.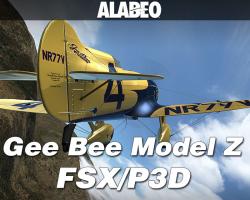 Media Format

Immediate Download

Compatibility

Microsoft Flight Simulator X inc. Steam Edition & Prepar3D including v4

File size

47.9 MB
The people over at Alabeo have created a great rendition of the Gee Bee Model Z, available as an immediate download for Microsoft Flight Simulator X or Prepar3D, as a fine addition to your collection. The Gee Bee was an American racing aircraft from the 1930's and the first Super Sportster built by the Granville brothers.
The character and charm of this aircraft translates very well into your Flight Simulator environment. The fact that the Model Z is essentially a very large engine with a little plane built around it makes it a challenging aircraft that might take getting some used to. But with 535 virtual horses behind it, it can also be a very fun ride. The flight dynamics here do a very good job of bringing the excitement of this racing aircraft to your finger tips.
The high quality 3D model can really be appreciated on an aircraft like this; a lot of the time you won't notice some of the smaller details on an aircraft. But in this case, it's a real thrill when performing aerobatics to take a second to look at all the different parts of the plane as they catch the light. With realistic metal shines and reflections, the Model Z is great to fly from the exterior view, but just as fun to fly from the virtual cockpit, where you can feel the size of the enormous engine.
A blank texture is included for those with creative flare that want to design their own liveries and repaints, offering you a more personalised experience. Maybe you want to add Model Z to a fleet that you've already designed, or create your own racing team.
The Granville Gee Bee Model Z from Alabeo is a wonderful expansion for your copy of Flight Simulator X or Prepar3D.
Superb material shines and reflections.
Challenging flight dynamics.
High quality 3D model and textures.
Aerobatic smoke effect.
Blank texture for creating your own designs.
Once you have this base package, you can download some great repaints here:
Download Expansion Repaint Pack (9.1 MB - ZIP)
Please note, the pictures below include images of repaints that have been applied after installing the expansion repaint pack above, they are not included with the default product.
Customer Reviews
Rated 5.0/5.0 based on 1 customer reviews
03/19/2013

5

/

5

I got this plane because I have always wanted to fly the Gee Bee, not expecting to much thou I was suprised to find it both fun to fly and a little "bitchy" to say the least. It is pritty tricky to takeoff but you get the hang of it after some runs. The plane behaves pritty much as expected and the VC view and grafics gives that "feel" that you are sitting on a Big Engine, with small wings so for that price I give it a 5.
Submit a review of this product
Customers Also Purchased