This addon is compatible with
Microsoft Flight Simulator X
. It should also work with
Microsoft Flight Simulator X: Steam Edition
. Some developers have explicitly stated compatibilty with Steam Edition but others haven't. Check the product description below for guaranteed compatibility. Just because it doesn't mention it, this does not mean it will not work with the
Steam Edition
.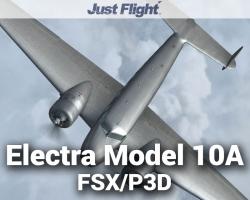 Media Format

Immediate Download

Compatibility

Microsoft Flight Simulator X inc. Steam Edition & Prepar3D

File size

318 MB
A popular choice amongst the rich and famous, the Electra was Lockheed's first twin-engined, all-metal design, taking its maiden flight in 1934. A highly modified Model 10E was made famous by Amelia Earhart, who tragically disappeared during a round-the-world record attempt. Highly evocative of the 30s and 40s, the Electra appeared in many movies, carrying Humphrey Bogart to some distant Pacific island or battling valiantly after being pressed into military service during WWII. All this nostalgia is ready-built into this new Lockheed Electra Model 10A for Flight Simulator X and Prepar3D.

Special texture techniques have been employed to enhance the nostalgic theme of this aircraft, bringing to life the metal-skinning and riveted assemblies of this iconic airframe.

Thirteen authentic liveries, including the paint scheme featured in the classic film 'Casablanca', evoke the glamour and excitement of 1930s aviation and a Pro quality paintkit is available so you can add your own historic or fictional schemes.

The full-bodied sound pack really brings the Electra alive and the large super-detailed radials roar into life with vibrating exhausts and plenty of smoke!

Built over the most accurate plans available
Authentic animations include realistic flap and aileron operation, gear retraction and opening passenger door and boarding steps
Art deco interior visible on the exterior model
Animated and skinned pilots react to throttle and flight control movements
Rivets, dents and modelled panel mismatches bring out the subtle nuances of the art deco style construction and finish
Detailed radial engines with vibrating exhausts
Two distinct models with metallic or matte finishes
Authentic radial sound pack
High fidelity interior virtual cockpit with many unique animations and functions
All instrumentation, switches and controls are modelled in 3D
13 authentic liveries
Easy-to-use Pro quality paintkit (201MB) available
Easy-to-use Collins-based radio stack
Liveries

All metal finish (no decals/markings)
Mid-Continental Airlines
Romanian transport
Spanish transport
Aeroput Airlines
Chicago & Southern Airlines
Wisconsin Central Airlines
Northwest Airlines
Braniff Airways
Union Airways
Trans-Canadian Airlines
Linea Aerea Nacional
Paint scheme featured in the classic film 'Casablanca'
Submit a review of this product
Customers Also Purchased