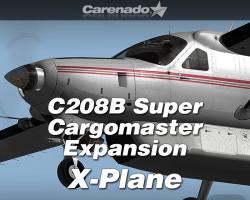 Media Format

Immediate Download

Compatibility

X-Plane 10.40 (or higher) and Carenado C208B Grand Caravan package

File size

111 MB
Now version 3.2.
Add the cargo option to your existing Carenado C208B Grand Caravan package. We also include some free liveries below for you to download and enjoy.
This is an expansion only for the original Carenado C208B Grand Caravan for X-Plane. You must have this add-on first before you are able to use this expansion. You can get the base pack here.
Carenado are expanding on their C208B Grand Caravan with this Super Cargomaster expansion for X-Plane. With this expansion you get access to new liveries and a whole new aircraft for your virtual hangar for a next to nothing price tag.
Originally working with FedEx, Cessna produced the first Cargomaster and later created an upgraded version they coined the Super Cargomaster. FedEx purchased 260 of these, so it only seems fitting that one of the now available liveries is a HD FedEx Feeder livery. Also included is a DHL livery and an original gray paint scheme with a red pin stripe that pays homage to designs of the aircrafts era. The differences between this expansion model and the original may appear minimal from the outside, as the only noticeable changes beside the livery is the absence of any cabin windows. But the interior model has been completely revamped to resemble an authentic cargo hold full of cardboard boxes and heavy duty mesh. Depending on what livery you're sporting, the cardboard boxes in the cargo hold will either have a FedEx or a DHL logo on them.
Considering this aircrafts primary role, having it handle accurately while carrying varying amounts of cargo is important to delivering a true to life experience. Carenado, being aware of this, have meticulously and accurately reproduced the flight characteristics making sure that this C208B variant handles and performs as it should. To take it a step further, they have included two preloaded cargo configurations with different weights that will test your piloting skill.
3D modeled and animated pilots remain in the well crafted cockpit, while the panel retains all of its flare and functionality with a KFC150 autopilot and a GNS430 installed. The convenient option to toggle yoke visibility is welcomed as much as the realistic light effects on the gauges that boost your immersion and improve visual fidelity all in all. Incredibly compelling, high quality sounds recorded from an original PT6 engine amalgamate the various moving parts, animations and general behavior of the aircraft into one complete subsistence. As far as expansion packs go, this one certainly carries a lot of weight.
Version 3.0
X-Plane 64-bit compatible.
Includes improved default X-Plane 10.30 GNS430.
Plugin-enhanced
FPS-optimized model.
NEW! Scroll wheel support
DDS textures for faster load times and optimization
Night light effects
Prop disc effect
Cameras and viewpoints change system
New plug-in controlled 3D sounds
Features
Interactive virtual cockpit
318 pixels/meter textures
Original KFC150 autopilot installed
Original HQ digital stereo sounds (44.1 KHz) recorded from the original PT6 engine
2 Preloaded cargo configuration with different weight
2D windows: Field of view, door manager and general options for controlling cargo pod, statics elements and VC windows transparency.
Full moving parts: Ailerons, elevators, rudders, flaps, rolling wheels
Highly detailed animations, such as doors, ladders, fully articulated sun visors, etc.
Realistic exterior lights and night lighting effects: Navigation lights, beacons, landing lights
Realistic light effects on gauges
3D modeled and animated pilot figures
Highly detailed and optimized 3D cockpit area
IFR certification
Many details such as: pitot, antennas, chocks, pitot cover, baggage area.
Realistic textures and original paint designs.
Accurately reproduced flight characteristics
Real weight and balance.
Toggle yoke visibility in virtual cockpit
Included in the package
1 HD livery
1 Blank texture
1 model
Normal and Emergency Procedures PDF
Reference document PDF
Review
With the just released C208B CargoMaster, Carenado heavily revised the interiors and exteriors of their basic Caravan object files, and in a very real sense you end up with two radically different aircraft. Yes, the windows are gone, and the interior is now a dedicated cargo hauler's nightmare of boxes and nylon webbing, yet the panel remains much the same and the aircraft handles in a like manner. So, aside from that, only the aft rear doorway is gone and in a physical sense that wraps up the changes. - xsimreviews
Free Liveries
You can download two free liveries in DHL and FedEx paint schemes.
Screenshots:


Submit a review of this product
Customers Also Purchased