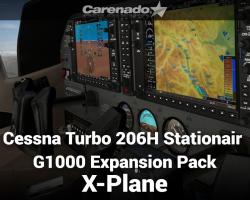 Media Format

Immediate Download

Compatibility

X-Plane 10.40 (or higher) and Carenado CT206H Stationair for X-Plane

File size

277 MB
This is an extension pack for the previously released CT206H Stationair HD SERIES for X-Plane. You HAVE TO HAVE the latest version of that aircraft in order to run this extension pack.

Now version 3.2.
Features

Carenado G1000 (PFD and MFD)
Terrain Awareness map mode
Different declutter levels
Advance menus and cursor with scroll wheel, click/hold or /drag
Aux- Trip Planning Window
Checklist mode
Crisp, vector-based water data
Pop-up windows can be resized and moved around the screen
Pristine scroll wheel support
FPS-friendly terrain map
KFC225 autopilot integrated with the G1000
350 pixels / meter textures
3D gauges
Original HQ digital stereo sounds recorded directly from the real aircraft
3D stereo effects, such as outside sounds entering open windows.
Customizable panel for controlling window transparency, instrument reflections and static elements such as wheel chocks and turbine inlet/exhaust covers.
Realistic behavior compared to the real airplane. Realistic weight and balance. Tested by real pilots.
Realistic 3D night lights effects on panel and cockpit.


Included in the package

CT206H G1000 Emergency Checklist PDF
CT206H G1000 Normal Procedures PDF
CT206H G1000 Performance tables
Carenado G1000 PDF
CT206H G1000 Quick Reference PDF
KFC225 Autopilot PDF
Recommended Settings PDF
Special Features
Carenado G1000 (PFD and MFD)
KFC225 autopilot
Only for X-Plane 10.40 or higher.
X-Plane 64 bits compatible.
MJulti-function scroll support
3D stereo sounds.
Submit a review of this product