Tupolev Tu-22 'Blinder' for FSX/FS2004

1 reviews

This addon is compatible with
Microsoft Flight Simulator X
. It should also work with
Microsoft Flight Simulator X: Steam Edition
. Some developers have explicitly stated compatibilty with Steam Edition but others haven't. Check the product description below for guaranteed compatibility. Just because it doesn't mention it, this does not mean it will not work with the
Steam Edition
.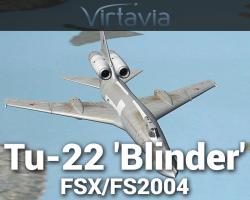 Media Format

Immediate Download

Compatibility

Microsoft Flight Simulator X & Microsoft Flight Simulator 2004

File size

35 MB
Despite being rather quirky in its nature and – in the long run – a bit of a failure, the TU-22 Blinder is an aircraft that many people remember with a fondness that probably does not correlate with the performance that the aircraft was capable of putting out. The Blinder was an aircraft designed to be a replacement for the old TU-16 Badger, but it did not work out that way at all. The blinder is no longer flyable at all, thanks to its unsuitability to the world of modern aviation.
That being said, it played a key role in the development of many of the strongest and most effective bombers that the USSR had. Despite its erratic design and hasty completion time, the aircraft paved a big gateway for new aircraft that could be built on the mistakes that were included within the package that was included within this model.
If you want to see where this aircraft went wrong, hop in!
Key Features
This model comes with a single variant alone, so whilst you might be used to seeing various models and liveries this kind of aircraft is rather unique. This is the KD Missile Carrier, giving you a really interesting view of this aircraft should have looked when "alive".

The lack of variation, though, is made up for with some of the most detailed textures that you are likely to come across. Each of the texture packages included in this have some truly outstanding details on them, included even to make it look a bit more simplistic than previous.

This includes excellent realistic weathering effects across the board that look excellent, bringing the whole thing to life in the most spectacular fashion possible whilst creating something that is incredibly easy to follow during flight – this model does not just blend into one another, instead creating something far more authentic.

This full FSX model is designed for use with just about every visual FSX feature – this includes useful additions to the graphical side of things such as bump mapping, self-shadowing, bloom FX and much more to help bring the model into the right kind of realism, scale and authenticity overall.

A hugely detailed flight model that looks outstanding, managing to give you all of the help that you need to buy into the realism of the aircraft .that isn't all, though! Many of the features included – such as the illustrated checklist – makes it easy for you to learn how to fly this beast as much as get used to its awesome looks

Various other changes have been included along the way that ensure this aircraft can fly to the standards and styles that you would have been hoping for. This includes extras such as foibles and various 'challenges' being replicated.

Indeed, the aircraft also comes with the right kind of fittings in terms of the people who are on-board. The model includes three animated crew hatches that can be opened, first, by using SHIFT-E. This looks great and the animations for letting people on-board the aircraft are smooth and effective.

Likewise, they come with crew seats that can easily be descended and moved to give you the right kind of view. You just need to press SHIFT-E-2 to get the right balance when you try this feature out, activating the feature and giving you an unprecedented level of general detail.

Even more impressive are the animated and totally realistic afterburner petals. These look great and give you the help that you nee to really buy into the true power and force of what afterburners can bring to the table, adding a fresh new dynamic onto the process and making it easier.

The cockpit itself is so incredibly easy to use that it can be hard to keep up with, creating this absolutely amazing rendition of Russian craftsmanship and design across the board and making it easier than ever to fly, with various mousable switches making control of it much easier.

All-XML 2D panels that use photorealistic designs to add another layer of realism to the panels themselves, ensuring that it all comes to life in the right way and really catches the depth and the scale of detail that you would have been expecting when you first hopped into the cockpit. Likewise, this gives you new pop-up tables for things like autopilot and mousabiltiy thus adding in the extra functions that you need to really control this, such as setting the fuel level via just one click of the mouse. These nice little extras really do make all the difference when flying something as challenging as this aircraft.

It comes with an automatic, on-throttle staged afterburner effect that roars to live and provides you with the right kind of performance boost and smoke trail that you would always hope to see. This even adds a nice little performance boost along the way, making the aircraft feel even more powerful!

An automatic smoke trail is included so that you can see the aircraft work its magic as you fly, creating usual visual effects such as vapour flashing, wingtip vortices and various other trails to really improve the way that you're flying.

Accurate flight dynamics have been created after many hours of research looking at this aircraft, ensuring that it matches up and goes together in tandem with the real aircraft and also making sure that you have no problems whatsoever controlling this aircraft when it is in the air.

Virtual cockpit rain effects are added for those who are using FS9 instead, making it nice and easy to control the aircraft and make it do your bidding.

A brilliant simulated TU-22 soundset has been created, as well, making it nice and easy for you to control the aircraft and to ensure that you can correlate with the features that you press VS the response that you hear from the aircraft. It takes a bit of time and a bit of planning to get it to work just as you had intended, bringing the aircraft to a greater level of performance.
Customer Reviews
Rated 5.0/5.0 based on 1 customer reviews
11/04/2015

5

/

5

Having read the description and heard that this aircraft was a bit of a failure in real life I decided to try it out and enjoy the madness that may commence.

Flying weird aircraft is always a lot of fun for me so this was the perfect way for me to get into this aircraft without knowing too much about it before or after the purchase. What I got, though, was a rather terrific aircraft that had plenty of problems but more than its fair share of positives and worthwhile additions, as well.

It was well worth having on my library, put it that way! The way that the overall flight manages itself is very impressive and makes flying around a whole lot easier than I thought it might be when I first hopped into the cockpit.

However, I did find that it was a little bit tough at times to fly around thanks to the clunky nature of the aircraft itself made it more than a challenge to actively use the aircraft without putting yourself in some kind of serious difficulty in the long run. It was something, though, that I did enjoy trying to get to grips with and have to admit that in the future I would probably use it later again!

It has that kind of bedraggled charm that made it seem more interesting than some of the old aircraft I've used that just felt dated and dull – it was a lot of fun to experiment in.
Submit a review of this product
Customers Also Purchased