This addon is compatible with
Microsoft Flight Simulator X
. It should also work with
Microsoft Flight Simulator X: Steam Edition
. Some developers have explicitly stated compatibilty with Steam Edition but others haven't. Check the product description below for guaranteed compatibility. Just because it doesn't mention it, this does not mean it will not work with the
Steam Edition
.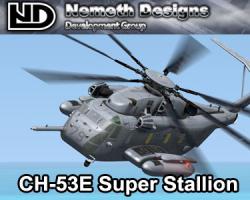 Media Format

Immediate Download

Compatibility

Microsoft Flight Simulator X

File size

87 MB
Featuring compatibility with Microsoft Flight Simulator X and enabled for immediate download, the Sikorsky CH-53E Super Stallion Ė FSX helicopter is the ideal way to familiarize oneself with the basic controls, operating panels and quirks of the Marine Corpís CH-53 Super Stallion helicopter.
The CH-53 Super Stallion was developed from the previously used Sea Stallion and is, to date, the largest and heaviest helicopter used by the United States military. Differences between the two models include a third engine, the addition of a seventh blade to the main rotor, and canting the tail rotor to 20 degrees. It is primarily used for attack on both land and water, carrying heavy equipment and armament, and recovering disabled aircrafts, which proves that the Super Stallion is no light weight.
Typically, the helicopter seats 37 passengers but has the potential to seat up to 55 once the center seats are employed. Features of the simulation include precise and detailed interior and exterior views of the Super Stallion. Aside from the general overview, this add-on also includes accurate interior and exterior animations, such as the foldable rotor and pylon.
Using the newest FSX graphic features, the add-on creates experiences ranging from work in the cock pit (which is fully clickable and interactive) to the multitudinous implemented systems which include deicing, firefighting and EAPS. Furthermore, this simulator comes equipped with a paint kit, two variants of the paint scheme, and a PDF manual, making it feel as though one were actually flying the real thing.
Customers can instantly have unlimited access to every single feature of a real life Super Stallion. In almost no time, users should be able to familiarize themselves with the software and the features of the Sikorsky CH-53E Super Stallion to the point that their real helicopters will be ready for liftoff.
Nemeth Designs have gone all-out on this CH-53E Super Stallion military helicopter for Microsoft Flight Simulator X.
The CH-53E Super Stallion is used by US Marine Corps for amphibious assault, carrying heavy equipment and armament, and recovering disabled aircraft; also used by US Navy for vertical onboard delivery and recovery of damaged aircraft from aircraft carriers. The development of the CH-53E is based on the CH-53D. Improvements include the addition of a third engine to give the aircraft the ability to lift the majority of the Fleet Marine Force's equipment, improved main rotor blades and composite tail rotor blades. A dual digital automatic flight control system and engine anti-ice system give the aircraft an all-weather capability. The helicopter seats 37 passengers in its normal configuration and has provisions to carry 55 passengers with centerline seats installed.
Features
Accurate and detailed interior and exterior visual models and textures.
Custom exterior and interior animations such as foldable rotor and pylon
Fully clickable dynamic virtual cockpit. Perfectly flyable from the VC.
Many implemented systems such as EAPS, de-ice system, firefighting
Realistic flight dynamics
Uses the newest FSX graphic featuires
Two variants with different paint schemes
PDF manual
Paint kit
Review
"Familiarize yourself with the controls follow the steps in the review and You Tube video and your CH-53E should be off the ground in no time. Now to my review. Thank you Nemeth Designs for this work of art. You and your designers have went way outside of the box with this one. I am extreamly pleased with my purchase and feel sorry for you guy's in the same breath. What are you going to do to out build this one, I'm not sure you'll be able to. Fantastic work!!!!I take my hat off to you all." - FlightSim
Submit a review of this product
Customers Also Purchased