CH-53A Sea Stallion for FSX/FS2004

1 reviews

This addon is compatible with
Microsoft Flight Simulator X
. It should also work with
Microsoft Flight Simulator X: Steam Edition
. Some developers have explicitly stated compatibilty with Steam Edition but others haven't. Check the product description below for guaranteed compatibility. Just because it doesn't mention it, this does not mean it will not work with the
Steam Edition
.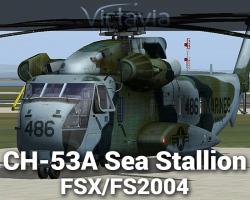 Media Format

Immediate Download

Compatibility

Microsoft Flight Simulator X & Microsoft Flight Simulator 2004

File size

30 MB
The CH-53 was designed to meet an ever increasing demand for payload and range commitments from the Marines and Navy, the Marines were looking for extended off beach deployment to secure there vessels from counter attack. The specifications also called for conversions to assault, personnel and medical transportation as well as downed air frame recovery. Sikorsky won the contract against stiff competition from Boeing and Kaman to produce what is one of todays fastest and heaviest utility helicopters.

For FS2004 and FSX

Features
5 texture variants included -

US Marine Corps 3-tone camo, early 80's
US Marine Corps, early 70's
US Marine Corps, late 70's
W German Army 'Heeresflieger'
W German Army 'Heeresflieger' United Nations

highly detailed textures by Pierre Lheureux
full FSX model included with all FSX features (bump mapping, self-shadowing etc)
v-c self-shadowing for SP2 users (DX10 preview mode)
custom soundset included
animated rear ramp (primary exit) and winchman hatch/door, cockpit side windows (2nd exit)
animated stowing tail section (on wingfold command FS9, water rudder FSX)
animated winch cable/hook (tailhook command, FS9-only)
highly authentic virtual cockpit with animations and (some) mousable switches
all-xml 2D panel, custom pop-ups for radios and switches panel
full checklist and reference files
highly realistic crew figures, toggled on water rudder command
rotor blades animated to show fore/aft & left/right tilt (FS9 only)
v-c rain effects (FS9 only)
Customer Reviews
Rated 5.0/5.0 based on 1 customer reviews
11/06/2015

5

/

5

The Sea Stallion is a helicopter I have had the pleasure of coming across numerous times in a professional capacity and therefore it was nice to be able to finally be able to have the chance to maybe try a realistic version of it out in a flight simulator. Not only did this make life much easier in general but it made it much simpler to pick up something truly epic, ensuring I would have no problems at all with getting to grips with the rather quirky nature of this aircraft whilst also letting me really feel the power that It carries.

The main idea of me trying this out was to give me a real idea of how something like this would feel so I could get aviation from the perspective of the flight experts out there, and this done everything I needed to really convince me how hard it must be hard to fly in a military environment. With the help of the crew figures, the checklists, the cockpit, the animations and the sounds I was able to feel as if I had a personal and professional understanding of this aircraft in no time at all, removing the challenges that I thought would be associated with flying something which is so incredibly powerful.

The extra additions of self-shadowing and other graphical add-ons just made it look even better to me, creating a really enjoyable flight experience I'd be happy to re-live over and over again in the future.
Submit a review of this product
Customers Also Purchased