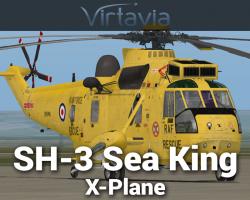 Media Format

Immediate Download

Compatibility

X-Plane 10 and 11

File size

325 MB
When taking to the skies in a helicopter, it always feels good to know you are in an aircraft designed for safety. The Sikorsky SH-3 Sea King has often been used as a rescue vehicle, working in emergency situations and in precarious locations to help save those who otherwise would not be saved.
It's for this reason that so many X-Plane users like to take to the skies in this chopper. It's a helpful aircraft, with ample size and space inside for everything from air ambulance features to space for staff. It's ample and spacious both in the cockpit and in the back and offers enough control and durability for the pilot to safely position the aircraft in even the most challenging of locations.
Whether you wish to take part in a roleplay experience or you wish to see how the Sikorsky SH-3 Sea King handles, this add-on for X-Plane 10 and 11 makes perfect sense. It's a must-have for anyone who wants to try out a twin-engine aircraft that is useful for everything from air rescue to anti-submarine warfare.
It's used by many different countries, including the United Kingdom and the RAF. Its versatility, bulk size, and impressive conditioning mean that few helicopters can live up to the standard and efficiency of the Sikorsky SH-3 Sea King. If you want to try it out for yourself, now you can.
What's New?
Highly immersive changes to the exterior model and interior cockpit ensure that you can enjoy a feature-laden, authentic flight.
New authentic cockpit design makes sure that you can enjoy a much more enjoyable flight thanks to the improved visibility and ease of locating key features.
The 3D cockpit comes with unique custom gauges and over major functions that will make such a huge difference to functionality as you fly.
The aircraft carries all of the real spec, shine and custom bump mapping expected of an X-Plane standard model.
Greater control over the aircraft is made possible thanks to the addition of new SASL plug-in features. This helps to add even more control than is possible with X-Plane.
New DreamEngine sound system makes sure that this aircraft carries realistic sounds for each action, from new torque noise to the 3D positioning of each sound.
What's Included?
For anyone unsure on how to best handle this aircraft, it comes with a new and improved user manual, complete with illustration, to help you get the most out of your time in the skies.
Alongside the new and improved aircraft model, you can pick up ten different minor variants alongside twenty-two fresh new liveries. Each livery follows the realistic design of the real helicopter. These new liveries include:
HAR Mk.5, Royal Navy
HAR Mk.3, Royal Navy
AEW Mk.2A, Royal Navy
Mk.48, Belgian Air Force
HC.4 Commando, Royal Navy
HC.4 Commando, Royal Navy (IFOR)
HAS Mk.1, Royal Navy
SH-3A, US Navy, USS Essex
SH-3D, US Navy, USS Hornet
SH-3H, US Navy, USS Hornet
CH-124B, Canadian Forces
HAS Mk.1, German Marineflieger
ASH-3D, Aviazione Navale, Marina Militare
HAS Mk.1, Royal Australian Navy
HSS-2B, Japan Self Defence Force
SH-3D, Spanish Armada
HAS Mk.1, Indian Navy Aviation
HC.4 Commando, Arab Republic of Egypt Air Force
HAS Mk.1, Pakistan Navy Aviation
ASH-3D, Islamic Republic of Iran Navy
Submit a review of this product