Beechcraft King Air B200 HD Series for X-Plane

1 reviews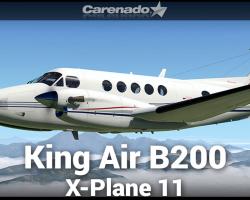 Media Format

Immediate Download

Compatibility

X-Plane 11

File size

320 MB
As a wider part of the famous Beechcraft King Air range, the Beechcraft King Air B200 is a piece of aviation history. Released in the 1980s, this hugely important aircraft helped to play a major role in the development of one of the most respected twin turboprop aircraft brands seen on the market.
A major aircraft, the aircraft series has been a stable since their release and, to this day, they maintain active service. Rom the Royal Australian Air Force o the US Army and USAF, Beechcraft King Air B200 has many uses from flight inspection to aerial-based surveillance, making it an excellent multi-purpose aircraft for the government, military, and commercial use.
Now, with this mod by Carenado, users can try out the Beechcraft King Air B200 and see how it feel within the new realm of X-Plane 11. Take advantage of its new hardware specifications and see for yourself why the Beechcraft King Air B200 is still in use for over 30 years!
What's Included?
As part of this add-on, you can enjoy a comprehensive take on the aircraft alongside six unique new liveries. Each livery adds a nice new attention to detail and precision to the design, really bringing it to life. You got a creative side? Then use the HD blank livery to help design your own specialty design and make up your own fantasy take on the Beechcraft King Air B200!
Also, it comes with a whole host of useful books. From recommended settings to ensure you can fly without FPS woes to terrain awareness annunciation, performance tables, checklists and a B200 EFIS PDF, you can get all the help that you need to make management of your Beechcraft King Air B200 so much simpler.
Key Features
Specifically designed to fit with the modern innovations of X-Plane 11, this take on the Beechcraft King Air B200 is a complete modernization of a hugely popular classic aircraft.
New flight physics were added in, too. This helps the aircraft to feel its proper weight and size, making sure you are left with a very impressive take on a complex aircraft indeed.
New ground handling also makes sure that you can feel the major difference between taking off from land and gliding through the air.
Impressive physically based rendering helps to add energy and excitement where you would have expected them to be. Watch as light reflects with perfect precision time and time again.
Comes equipped with new materials that help the aircraft to provide the same visual quality as film and gaming industry standards now allow; a huge leap forward for simulation with a purpose.
Ice and rain effects help to add another richness of detail to the aircraft. See how the aircraft looks and reacts to the weather and temperature in real-time!
Outstanding attention to detail has gone into making aircraft behavior as close to the real thing as is possible.
Authentic weight and balance make sure you are left with a much more challenging but rewarding aircraft to fly.
Tested by real-life pilots to make sure it is as accurate – and as challenging – as you would have expected along the way.
New VR-compatible blind spots make it very easy for you to enjoy a much more impressive and creative style of aviation. Much more immersive.
Fully compatible with Goodway.
Customer Reviews
Rated 5.0/5.0 based on 1 customer reviews
02/25/2020

5

/

5

Verified Purchase

the Beechcraft B200 is one beautifully modeled airplane, the textures are remarkable. I fly in VR and the compatibility with VR is good for the most part, I do fnd I have a few issues turning knobs but that could be a user issue. I love having the ability to set the auto pilot for a long flight then going into the back seating area, bring up a video and watch some YouTube, TV or an in flight movie lol.. it's actually pretty cool All the knobs appear to work with lights, and the fact that the rear windows have a tinting or blind feature is pretty cool as well, giving you that dark room feel during high noon, all in all it's a great flying plane one that has become a staple in my garage and one I intend to fly most
Submit a review of this product
Customers Also Purchased