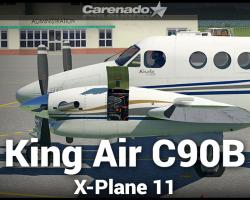 Media Format

Immediate Download

Compatibility

X-Plane 11

File size

350 MB
As one of the most impressive numbers within the wider Beechcraft King Air series, the C90B is a majorly popular aircraft. Itís been a model that has since become a minor legend within aviation circles, revered for its impressive quality.
This was released in the 1990s and since then it has become one of the most impressive of its kind; a powerful four-bladed propeller-driven aircraft. It was a much quieter aircraft than its predecessor, which this add-on does a rather fine job of showing you!
If you are a fan of the C90B and would like to try it out in X-Plane 11, now is the chance. This Carenado creation helps to show off just how much fun one can have in the cockpit of something like the C90B. If you have never tried one out before, then this aircraft can offer you something different from predecessors and successors.
Key Features
Designed to be fully compatible with X-Plane 11 new physics engine and engine dynamics. This allows the aircraft to be much closer to the real thing in both strengths and weaknesses.
Impressive engine cowlings open up, revealing the 3D engine model inside Ė closely resembles the real engine, making it easier to feel fully immersed into the experience.
Authentic flight handling allows for the aircraft to maintain a similar weight and balance to the real thing.
Tested by a team of pilots to make sure that this aircraft flies as close to the real thing as it possibly can.
Impressive and authentic loading and unloading of all 3D parts as-needed allow for optimal FPS optimisation.
Ground handling has been adapted to the more authentic and realistic ground physics applied as part of X-Plane 11.
Top quality physics-based rendering makes sure that you are left with a very impressive finish, with materials shining and glimmering as you would expect them to be.
Developed using industry standard software, this carries the same quality one would expect from gaming professionals.
Extra effects include the new ice and rain effects which park themselves on the windows of the cockpit for further immersion and impression.
Uses the X-Plane GNS430 with full compatibility for more impressive FPS management.
Fully Goodway compatible.
Whatís Included?
6 HD new liveries and a blank HD livery for you to update and change as you please.
C90 EFIS PDF.
Emergency and Normal Checklist PDF packages.
Performance Tables and Reference Guides PDFs.
Terrain Awareness Annunciator Control Unit PDF.
Recommended Settings PDF.
Submit a review of this product
Customers Also Purchased