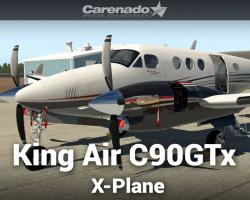 Media Format

Immediate Download

Compatibility

X-Plane 11

File size

330 MB
Version 1.2
Special Features
Full interior and exterior PBR.
3D interior and exterior with MANY details.
Rain effect support* (dynamic drops movements).
Customized FMOD sounds.
Carenado Proline 21
RealityXP GTN750 support (with 3D panel display support)**
Features
Full VR compatible
Specially designed engine dynamics for XP11.
Flight physics optimized for XP11 standards.
Physically Based Rendering materials and textures throughout.
PBR materials authored with industry-standard software used by the film and gaming industries.
Realistic behavior compared to the real airplane. Realistic weight and balance. Tested by several pilots for maximum accuracy.
Included in the package
5 HD liveries.
1 HD blank texture.
C90 GTX Normal Procedures PDF.
C90 GTX Emergency Procedures PDF.
C90 GTX Performance tables PDF.
C90 GTX Limitations PDF.
Carenado Proline21 PDF.
Carenado RTU PDF.
Flight Guidance Systems PDF.
Recommended Settings XPLANE 11 PDF.
Submit a review of this product