Boeing B-29 Superfortress for P3Dv4

2 reviews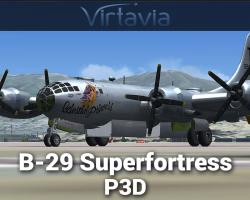 Media Format

Immediate Download

Compatibility

Prepar3D v4

File size

206 MB
As one of the most important aircraft of an entire era, the Boeing B-29 Superfortress played a key role in how aircraft has developed ever since. First arriving in 1942, by 1944 it was in the skies on a regular basis and was used until its retirement in June 1960. It was a very important aircraft, delivering many major changes that simply transformed aviation. From features like the pressurized cabin to the tricycle landing gear, it was a bit of a trailblazer in terms of the aircraft of the day.
It also used an analog computer controlled fire-control system, which allows for the four gun turrets onboard to be used by one gunner, reducing the need for so many staff onboard. As an improvement in every way over the old B-17 Flying Fortress, this soon transformed the concept of military aviation.
The biggest change it made, though, was to how we dropped bombs. With the help of the B-29, the United States turned the tide of the Second World War. It was through the B-29 that the single biggest military undertaking in history took place: the dropping of the atomic bombs on Hiroshima and Nagasaki. At a cost of $3bn, it was the single largest weapon of war developed during the Second World War.
Today, just two of these aircraft remain in flying condition – the rest are all in a static condition. With over 3,900 of these built, the two that remain took to the skies for the first time in July 2016.
For this reason, it holds a special place within aviation history. If you would like to fly a piece of aircraft royalty that served so many key roles, then pick up this add-on for P3D 4 and see how it would have felt to fly a piece of history.
What's New?
Fully optimized to fit with P3D v4 SDK rules and changes.
Both the standard B-29A and Enola Gay models are included for your usage.
Fully working engineers station, with accuracy in the layout and functionality.
New and improved virtual cockpit with improved gauges and control mechanisms.
2048 x 2048 textures complete with bump mapping on the bare metal for better immersion.
8 liveries to pick from, covering key operations such as the Korean War.
1 blank livery kit provided for use with Adobe Photoshop to create bespoke liveries.
New animated crew figures who come in flight gear relative to the period of time.
Makes use of key changes like self-shadowing and bloom textures for best effect.
New and improved animated features, such as bomb loads and animated doors.
New start-up smoke makes sure you can see the power of the B-29 from start-up.
Illustrated new manual to help you learn the ropes and challenges in flying the B-29.
Customer Reviews
Rated 4.5/5.0 based on 2 customer reviews
07/03/2020

4

/

5

Verified Purchase

The download was fast and without any problems. Using the installer was a bit complicated but in the end everything was in order. I knew the plane from olders versions and if flew perfectly. Good job, this conversion tot P3D v4.
09/07/2020

5

/

5

Verified Purchase

Good product, especially for the price. There's a good selection of liveries and the VC is well done. Highly recommended.
Submit a review of this product
Customers Also Purchased