This addon is compatible with
Microsoft Flight Simulator X
. It should also work with
Microsoft Flight Simulator X: Steam Edition
. Some developers have explicitly stated compatibilty with Steam Edition but others haven't. Check the product description below for guaranteed compatibility. Just because it doesn't mention it, this does not mean it will not work with the
Steam Edition
.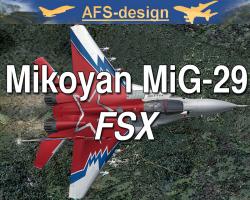 Media Format

Immediate Download

Compatibility

Microsoft Flight Simulator X

File size

15.6 MB
You are now in the cockpit of the Mikoyan MiG-29. Imagine the point at which speed becomes meaningless. Where clouds pass like drops of rain, and it seems you may fly right off this world. With the power of FSX behind you, the world is open to you and your flight plan. Will you cruise the skies above Russia, as this plane does to this very day? Or will you expand the range of this modern marvel? The choice is yours, if you dare. Careful, though. This plane, developed in the 1970s, boasts a supercharged engine even by today's standards.
In this simulator, your plane will have a thrust of 22,200 pounds, a truly outrageous amount of power. All that power translates into a maximum speed of 1,520 mph, otherwise known as above Mach 2 and almost twice the speed of sound. With this plane, your ability to wrest command of the skies will out-rival the F-16 Fighting Falcon, and the F-15 Eagle.
Were you to take a hold of this marvel of modern aviation, you would find yourself in the position to not only observe the world below beyond the speed of sound, you would also be able to pull off the legendary Pugachev's Cobra maneuver, if your skill is high enough.
With this jet, you may be able to have your plane go perpendicular to the ground while moving straight ahead. Only a few planes are capable of such a maneuver, but you would have the technical power to do so, if you have the skill. Indeed, this agile and sleek modern marvel is a beast of a plane, and not for the faint of heart.
Will you cruise at its highest altitude of 18400 meters, or do you dare to test your abilities as a pilot mere feet above the Earth? There is only one way to find out. Ladies and gentlemen, the AFS Mikoyan MiG-29 FX.
Manufacturers Description
The Mikoyan MiG-29 is a 3th generation jet fighter aircraft designed for an air superiority role in the Soviet Union. Developed in the 1970s by the Mikoyan design bureau, it entered service with the Soviet Air Force in 1983, and remains in use by the Russian Air Force as well as in many other nations. NATO's reporting name for the MiG-29 is "Fulcrum", which was unofficially used by Soviet pilots in service. It was developed to counter new American fighters such as the F-16 Fighting Falcon, and the F-15 Eagle.
Technical data of the Mig-29
Crew: 1
Power Plant: Two Klimov/Sarkisov RD-33 turbofans
Thrust: 22,200 pounds
Wingspan: 36 feet and 5 inches
Height: 15 feet and 6.25 inches
Length: 56 feet and 10 inches
Weight (empty): 24,030 pounds
Maximum Speed: Mach 2.3, 1,520 mph
Ceiling: 18400 meters
Cruise range: 905 nm
In-Flight Refueling: No
Internal Fuel: 4000kg
Payload: 4000kg
Sensors: Slot Back radar, IRST,RWR, Balistic bombsight
The AFS-design Mig-29 product features the following
Detailed outside and interior model inclusive animated virtual cockpit
Highly soluble textures with surfaces reflecting
Extensive light effects (e.g. Navigation and landing lights)
Numerous animations (e.g. canoby, move in gear with spring system)
Animation of all tax flaps (e.g. airbrakes and spoilers)
Realistic flight dynamics (inclusive different trim steps for optimal trim)
Formation flight model with three Mig-29
Complete functioning autopilot
Avionics for radio navigation
Engine animation inclusive thrust reversing and afterburner
Completely functioning virtual cockpit from view of the pilot
modified Scenery military airfield Rostock - Laage
The AFS-design Mig-29 product features the following liveries
Germany "Bundeswehr Luftwaffe" Airforce
German Democratic Rebublic ( GDR ) National Peoplearmy ( NVA )
Russia Airforce
Russia Airforce with special repaint
Repaints from Poland, Hungary and Slovakia Airforces
Video
Submit a review of this product