MiG-29 Fulcrum for FSX/FS2004

1 reviews

This addon is compatible with
Microsoft Flight Simulator X
. It should also work with
Microsoft Flight Simulator X: Steam Edition
. Some developers have explicitly stated compatibilty with Steam Edition but others haven't. Check the product description below for guaranteed compatibility. Just because it doesn't mention it, this does not mean it will not work with the
Steam Edition
.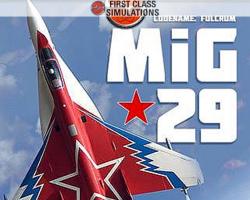 Media Format

Immediate Download

Compatibility

Microsoft Flight Simulator X & 2004

File size

38.4 MB
The team at First Class Simulations have done a fantastic job with their beautiful recreation of the Mikoyan MiG-29 Fulcrum, available as an immediate download for instant delivery to your Microsoft FSX or FS2004 hangar. Originally designed by the Soviet union and developed by the Mikoyan Design Bureau, the MiG-29 was to be the new air superiority fighter to counter the American F-15 and F-16 fighters.
This finely crafted model features a very detailed exterior, and an equally impressive interior, where you will find a fully animated virtual cockpit. A great deal of work has gone into the various texture maps, making sure that surfaces behave the way they do in real life, like the way the light reflects of the various forms of the aircraft as you break through the clouds and hit the light. Other light effects such as, navigation and landing lights, add more depth to the exterior of the model. While a functioning autopilot and avionics for radio navigation help round the players experience in the cockpit.
Smaller but just as noticeable touches, are things like the tax flaps animations, the air brakes and spoilers for example, and the canopy animation. There are also larger touches, like the awesome engine animations, with thrust reversing and afterburner, that add a great deal of character to the aircraft and help show bring the power of this machine into you Flight Simulator.
The package comes complete with a variety of Military liveries for you to chose from, including Russian Air Force, German Democratic Republic and National People's Army, as well as repaints from Poland, Hungary and Slovakia Air Forces.
This MiG-29 also features realistic flight dynamics. Which means that the feel of the RD-33 Turbofans and their 22,200 pounds of thrust can be felt very clearly from your personal rig. Combined with looks that are as impressive as it's operational history, the formidable MiG-29 Fulcrum will make a fine addition to your hangar. You could put it right next to your F-16 Fighting Falcon.
Manufacturers Description
The Mikoyan MiG-29 is a 3th generation jet fighter aircraft designed for an air superiority role in the Soviet Union. Developed in the 1970s by the Mikoyan design bureau, it entered service with the Soviet Air Force in 1983, and remains in use by the Russian Air Force as well as in many other nations. NATO's reporting name for the MiG-29 is "Fulcrum", which was unofficially used by Soviet pilots in service. It was developed to counter new American fighters such as the F-16 Fighting Falcon, and the F-15 Eagle.
Technical data of the Mig-29:
Crew: 1
Power Plant: Two Klimov/Sarkisov RD-33 turbofans
Thrust: 22,200 pounds
Wingspan: 36 feet and 5 inches
Height: 15 feet and 6.25 inches
Length: 56 feet and 10 inches
Weight (empty): 24,030 pounds
Maximum Speed: Mach 2.3, 1,520 mph
Ceiling: 18400 meters
Cruise range: 905 nm
In-Flight Refueling: No
Internal Fuel: 4000kg
Payload: 4000kg
Sensors: Slot Back radar, IRST,RWR, Balistic bombsight
The AFS-design Mig-29 product features the following:
Detailed outside and interior model inclusive animated virtual cockpit
Highly soluble textures with surfaces reflecting
Extensive light effects (e.g. Navigation and landing lights)
Numerous animations (e.g. canoby, move in gear with spring system)
Animation of all tax flaps (e.g. airbrakes and spoilers)
Realistic flight dynamics (inclusive different trim steps for optimal trim)
Formation flight model with three Mig-29
Complete functioning autopilot
Avionics for radio navigation
Engine animation inclusive thrust reversing and afterburner
Completely functioning virtual cockpit from view of the pilot
modified Scenery military airfield Rostock - Laage
The AFS-design Mig-29 product features the following liveries:
Germany "Bundeswehr Luftwaffe" Airforce
German Democratic Rebublic ( GDR ) National Peoplearmy ( NVA )
Russia Airforce
Russia Airforce with special repaint
Repaints from Poland, Hungary and Slovakia Airforces
Customer Reviews
Rated 4.0/5.0 based on 1 customer reviews
04/24/2018

4

/

5

Verified Purchase

very nice choice of texture, but FSX only, to be recommended
Submit a review of this product
Customers Also Purchased