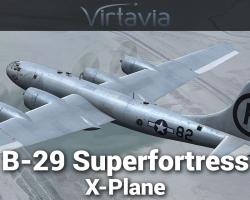 Media Format

Immediate Download

Compatibility

X-Plane 10 and 11

File size

229 MB
The Boeing B-29 Superfortress was a giant leap forward in bomber technology and production by the U.S. during WWII. The first flight took place in Seattle, WA in 1941.
The B-29 featured a number of firsts including a fully pressurized cabin, electronic firecontrol system, and a 20,000 lbs bomb load. Used primarily in the Pacific theater B-29s using incendiaries burned Japan's factories to the ground.
Because of the B-29s size, speed and range, it was chosen to carry the atomic bombs dropped on Hiroshima and Nagasaki, Japan in 1945.
Features:
The cockpit is modeled in ultra-realistic detail and features full night lighting textures & effects.

Custom made retro-fitted avionics stack featuring the new integrated GNS 430.

High quality 3D cockpit with many custom gauges

Nine beautifully detailed liveries with high res 4K textures

Realistic flight model, aircraft handling and performance.

High quality 3D model complete with realistic spec, shine, and custom bump mapping to bring every rivet and surface to life.

Many custom features have been simulated using the SASL plugin, giving much greater functionality than is available through X-Plane alone.

Custom logic throughout numerous systems

Accurately animated switches and manipulator knobs

Custom throttle, mixture and control lock systems.

Great night lighting HDR effects with dial illumination and red cockpit spill lighting.

3D animated props what change depending on viewing angle.

Pilots yoke can be hidden for easier visibility of panel.

Functional autopilot panel.

Realistic flame effects from exhausts when engines are on fire.

Custom made modified pilots checklist making single pilot operation easier, when starting from cold and dark requires you to follow procedures.

Functional bombers station with working bomb doors and a full bomb load.

Bombing table included giving run-in distances at various altitudes for dropping bombs.

10 pre-set quick views giving quick access to pilots, co-pilots and engineers positions amongst others.

Animated working gun turrets.

Animated cowl and intercooler flaps, flaps, landing lights and control surfaces.

Custom fire extinguisher and fuel gauge logic
DreamEngine Sounds
The B-29 comes with the excellent DreamEngine sound plugin giving real life sounds and 3D positioning, greatly enhancing your experience.
Please note: screenshots are from FSX but the developer has stated the content and appearance is identical in X-Plane.
Submit a review of this product