Boeing B-29 Superfortress for X-Plane

2 reviews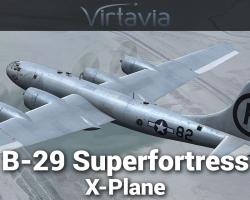 Media Format

Immediate Download

Compatibility

X-Plane 10 and 11

File size

229 MB
While the Boeing B-29 Superfortress might not be the same technological innovation that it was when it was first released, it was a massive leap forward for the era. It was among the most innovative bombers built in the 1940s and paved the way for military aviation of the standard that we know of today.
It was produced during the Second World War by the US and first took to the skies in the early 1940s. In that time, it has become an icon of US aviation. It has set the tone for many firsts which are now an absolute must, including fully pressurized cabins, electronic fire control systems and a bomb load of up to 20,000lbs. That impressive load made sure that it was able to play a key role in turning around the war in the Pacific.
Alongside other US innovations, the B-29 Superfortress played a leading role in bringing down the Japanese. It was also used to help carry the fateful atomic bombs dropped on Nagasaki and Hiroshima in 1945, bringing about the tragic, brutal end to the war.
If you would like to fly a piece of modern aviation aristocracy, this add-on for X-Plane 10 and 11 will do give you the opportunity you desire.
What's New?
An immersive take on a legendary aircraft built an authentic cockpit that carries full night lighting and night textures.
Old-school avionics equipped to make sure that you can enjoy a classic flight experience, topped up with GNS 430 integration.
The 3D cockpit comes with many custom gauges, making sure that you can enjoy a much better standard of in-cockpit flight.
Impressive 4K texture liveries help to add a richness and modern level of depth to the detail all across the aircraft.
Customized bump mapping, as well as realistic spec and shine, creates an immersive, engaging surface that showcases every nut, bolt, and rivet in the aircraft design.
Authentic flight dynamics and performance fit perfectly with the aircraft, delivering the same strengths and weaknesses the aircraft was known for.
The SASL plug-in used to help improve the functionality and usage of the aircraft, further adding to the enjoyment users get when at the helm.
Customized aircraft logic using new systems to help improve performance and accuracy of decision making.
New and improved animations and extra effects, such as new bomber stations, bombing tables, and even flame effects
Better autopilot panel included among the new features available in the cockpit, as well as working gun turrets, flaps, landing lights, and control surfaces.
New fire extinguisher included alongside new fuel gauge logic.
Modified pilots checklist making sure that you can take off into the skies while at the helm, ensuring you follow official pilot protocol.
New bespoke throttle, mixture, and control lock systems vastly improve performance.
New and improved sounds systems help to add much-needed immersion and atmosphere into the cockpit as and when needed.
Customer Reviews
Rated 5.0/5.0 based on 2 customer reviews
04/02/2020

5

/

5

Verified Purchase

5 stars Incredible details, awesome liveries and a fantastic flight model make this B-29 the best (and only) B-29 for Xplane. As a historic aircraft, it's perfectly modelled and is allways a pleasing experience to fly it! The only thing I had to do tho was adding Normal Metalness to the plane (for a shiny livery texture) once the metal colours on the liveries are not that shiny. Highly reccomend!
09/20/2020

5

/

5

Verified Purchase

very nice plane with fine interior (the old virtavia-style for fsx). Rund perfect in XP 11.50
Submit a review of this product
Customers Also Purchased