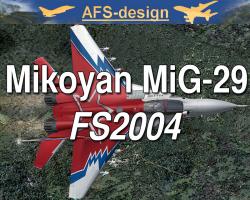 Media Format

Immediate Download

Compatibility

Microsoft Flight Simulator 2004

File size

13.2 MB
During the cold war, Americans were far superior then the Russians due to their F-15 Eagle, which is a twin-engine, all-weather tactical fighter designed to gain and maintain air superiority during aerial combat. To combat this threat Soviet Russia came up with the design of the Mikoyan MiG-29.
The specialty of this air fighter is its Klimov RD 33 turbofan engine with superior maneuverability, alterations were made while using the auxiliary air inlet on the upper fuselage for takeoff, landing and low-altitude flying, preventing ingestion of ground debris by closing of the main air inlet. The engines receive air through louvers which open automatically when intakes are closed.
The cockpit design has the basic left hand throttle controls and the conventional center stick. Emergency escapes can take place at lightning speed due to the ejector seat strategy. Upgraded versions of the MiG-29 include high-mounted bubble canopy and glass cockpits with modern liquid-crystal (LCD) multi-function displays.
The Sensors fitted on the MiG-29 include A Phazotron RLPK-29 radar fire contol system. This includes the N019 pulse doppler radar along with a Ts100.02-02 digital computer with a tracking range 70 km and 35 km corresponding to the front and rear aspect.
The Mig-29 is armed with a single GSH-30-1, which is a 30 mm cannon fitted to the port wing root which originally contained a 150 round magazine but now has been reduced to a 100 rounds, The later variants of the MiG-29 is capable of firing a cannon even if its carrying a centerline fuel tank(1,500 litre tank) which is used to carry out missions over long distance.
Provisions have been made for three pylon to be accommodated under each wing. The inboard pyloncan carry a 1,150 litre fuel tank along with medium range air missiles or unguided bombs/rockets. The newest version is equiped with laser-guided electro optical bombs and air to surface missiles.
Manufacturers Description
The Mikoyan MiG-29 is a 3th generation jet fighter aircraft designed for an air superiority role in the Soviet Union. Developed in the 1970s by the Mikoyan design bureau, it entered service with the Soviet Air Force in 1983, and remains in use by the Russian Air Force as well as in many other nations. NATO's reporting name for the MiG-29 is "Fulcrum", which was unofficially used by Soviet pilots in service. It was developed to counter new American fighters such as the F-16 Fighting Falcon, and the F-15 Eagle.
Technical data of the Mig-29
Crew: 1
Power Plant: Two Klimov/Sarkisov RD-33 turbofans
Thrust: 22,200 pounds
Wingspan: 36 feet and 5 inches
Height: 15 feet and 6.25 inches
Length: 56 feet and 10 inches
Weight (empty): 24,030 pounds
Maximum Speed: Mach 2.3, 1,520 mph
Ceiling: 18400 meters
Cruise range: 905 nm
In-Flight Refueling: No
Internal Fuel: 4000kg
Payload: 4000kg
Sensors: Slot Back radar, IRST,RWR, Balistic bombsight
The AFS-design Mig-29 product features the following
Detailed outside and interior model inclusive animated virtual cockpit
Highly soluble textures with surfaces reflecting
Extensive light effects (e.g. Navigation and landing lights)
Numerous animations (e.g. canoby, move in gear with spring system)
Animation of all tax flaps (e.g. airbrakes and spoilers)
Realistic flight dynamics (inclusive different trim steps for optimal trim)
Formation flight model with three Mig-29
Complete functioning autopilot
Avionics for radio navigation
Engine animation inclusive thrust reversing and afterburner
Completely functioning virtual cockpit from view of the pilot
modified Scenery military airfield Rostock - Laage
The AFS-design Mig-29 product features the following liveries
Germany "Bundeswehr Luftwaffe" Airforce
German Democratic Rebublic ( GDR ) National Peoplearmy ( NVA )
Russia Airforce
Russia Airforce with special repaint
Repaints from Poland, Hungary and Slovakia Airforces
Video
Submit a review of this product