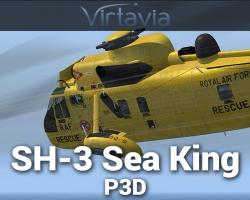 Media Format

Immediate Download

Compatibility

Prepar3D v4

File size

138 MB
For P3D users, flying a helicopter can be one of the best ways to see all of the attention to detail put into the world below you. With the Sikorsky SH-3 Sea King, you'll get to enjoy a much more professional sight-seeing experience, flying an aircraft which has many uses around the world.
This add-on brings to life many new changes and adjustments, making it much more realistic in terms of the performance and control. If you want to fly a challenging but rewarding helicopter, this might be one of the best places for you to start with. This adds a host of new features to the interior and exterior of the Sikorsky SH-3 Sea King, improving both performance and physical appeal.
On top of that, you can enjoy a much more impressive change to the sounds, as this includes a Turbine Sound Studios sound package. This offers much more dynamic, immersive audio inside and outside of the cockpit. If you want to enjoy a realistic flight experience which is kept easy enough to enjoy without being too advanced, you should be sure to try out this add-on.
What's New?
Impressive attention to detail on the texture work, making sure that the aircraft does not look brand new and out the factory, instead carrying the signs of weather wearing.
Useful and engaging changes to the virtual cockpit make sure that you can get a more realistic experience, with many new clickable features within the cockpit.
Virtual cockpit now includes both the rear cabin and new night lighting to make sure you can see what you are doing regardless of the time of day.
Pilots and crew members can be turned on/off depending on your own personal choice or preference.
New animated entry doors and side doors open up as and when you enter/leave the aircraft.
Winch/sling is also supported with the Sea King, making sure you can use this aircraft for missions that involve a winch of a sling.
New and improved special made gauges, each one making sure you can easily handle things like hover control CDI and GVI.
What's Included?
Users will receive a helpful illustrated guide to help them learn everything they need to know about flying the Sea King. Alongside a host of major changes to performance and visuals, this take on the Sikorsky SH-3 Sea King also introduces numerous new model add-ons and livery improvements. You can pick from an impressive 20 different texture sets, including:
HAR Mk.5, Royal Navy
HAR Mk.3, Royal Navy
AEW Mk.2A, Royal Navy
Mk.48, Belgian Air Force
HC.4 Commando, Royal Navy
HC.4 Commando, Royal Navy (IFOR scheme)
HAS Mk.1, Royal Navy
SH-3A, US Navy, USS Essex
SH-3D, US Navy, USS Hornet
SH-3H, US Navy, USS Hornet
CH-124B, Canadian Forces
HAS Mk.1, German Marineflieger
ASH-3D, Aviazione Navale of Marina Militare
HAS Mk.1, Royal Australian Navy
HSS-2B, Japan Self Defence Force
SH-3D, Spanish Armada
HAS Mk.1, Indian Navy Aviation
HC.4 Commando, Arab Republic of Egypt Air Force
HAS Mk.1, Pakistan Navy Aviation
ASH-3D, Islamic Republic of Iran Navy
Submit a review of this product
Customers Also Purchased