This addon is compatible with
Microsoft Flight Simulator X
. It should also work with
Microsoft Flight Simulator X: Steam Edition
. Some developers have explicitly stated compatibilty with Steam Edition but others haven't. Check the product description below for guaranteed compatibility. Just because it doesn't mention it, this does not mean it will not work with the
Steam Edition
.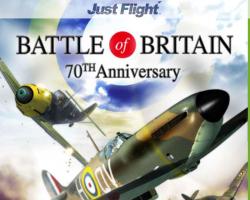 Media Format

Immediate Download

Compatibility

Microsoft Flight Simulator X

File size

149 MB
Some of the most beloved and iconic aircraft of all-time have, unfortunately, been used for purposes that aren't quite as pure and beautiful as the design. Many of the most prominent names in aircraft come through their purposes in war and combat, and specifically when you look at the Second World War there is an incredible amount of aircraft that are still revered across the world today thanks to their service. Whether you are a pacifist or not, we can surely all agree that the aircraft used in the war are some of the most iconic for a reason – they took on aviation, specifically military aviation, to a whole new level.
What was once only possible via the use of huge tank batteries and slow, expensive equipment could now be achieved using mobile, agile and mass produced aircraft. While many aircraft designs and models were a failure, the Battle of Britain is – for aviation purists – one of the biggest parts of aviation history. It was where many aircraft – such as the Spitfire – made their name, and became prominent in the future of the development and style of aviation.
In this package, you receive homage to the Battle of Britain on its 70th Anniversary. Although a scarring and traumatic event for many, it was one of the most prominent battles fought in the air of all-time and therefore has been commemorated in this special package for Flight Simulator X. taking advantage of the fantastic graphical capacity of the simulator, this gives you realistic designs and appropriately edited models to make sure that when you are flying the aircraft of your choice you really feel like you are in the real thing.
Giving you access to three of the key ranges on display during the great battle, the Spitfire, Hurricane and ME 109, this makes it easier than ever for purists to really enjoy these aircraft at the level of quality that they should be. Made entirely by the Just Flight community, you get access to realistic WW2 flight cockpits, attributes and features to really send you back in time to witness the aircraft in stunning resolutions.
What You Get
In the package, you will not only get access to three unique forms of aircraft but you also get to fly aircraft that have been authentically and faithfully recreated. The aircraft that you gain access to are;
Spitfire models from the first prototype ever made all the way through to the Mk1A, with some famous versions of each included in there for good measure

Hurricane models from the Mk1 in both the Battle of France and Britain, giving you control of various Hurricane aircraft that served in everywhere from Yugoslavia to the RAF in the Battle of Britain

ME 109 models that were used both in the Battle of Britain and the Tropical climates afterwards
Each model has been faithfully recreated to give you a fine selection and variation of different WW2 aircraft.
Key Features
Made exclusively to fit the various new features included within the Flight Simulator X engine, giving you a more powerful and diverse selection of WW2 aircraft than has ever been available before on a simulator – using the power of the latest edition in the package, you get to really feel the power and strength of this excellent aircraft package

Highly detailed models that take on every last feature and addition that you would expect to see – from the realistic shape and style of the real thing to the right placing for even the smallest of features, you get an authentic looking package that really sells these aircraft in the best light possible

Unique sounds included that have been taken from as much footage is possible, giving you aircraft that sound and look like their real-life counterparts

3D virtual cockpit designed for each model to give you reduced and realistic features – you won't have a GPS or an auto-pilot but you will be provided with a cockpit full of character, and one that requires all the knowledge and skill possible to fly properly!

Numerous new animations made for each brand of aircraft so that everything from the rotors to the flaps come alive when the plane takes off, making it feel even more realistic than ever before – key features have been faithfully added in to make the aircraft feel genuine and powerful

Multiple new camera points added in so that you can look at the aircraft from as many different angles as you like, allowing you to take in each aircraft with stunning detail and precision

A detailed manual included for each aircraft that means you get to really see how they operate, the attributes they bring to the table and what you are able to actually do with the aircraft. Note that no combat situation or scenarios have been included in this package, it gives you access to the aircraft faithfully remade without combat

Visibly detailed engines that are faithful to the real thing have been added so that the aircraft perform at the same levels that they would have in real life – there is no fantasy or guesswork carried out in this package, just genuine historic following and sticking to the facts

High quality flight models made from scratch that react and mold to the world around them at all times, giving you a truly authentic aircraft that feels genuine and acts just as it would have done in real life

Newly made specular and bump mapping on each model helps to bring them truly to life in front of your very eyes – made to look truly resplendent in the sky, they really do provide you with a stunning outlook on just how great the graphical capabilities of the simulator itself are. Take the aircraft into the sun and watch the reflections move and shape itself perfectly, just as it would have done were you to be flying the aircraft in real life

Shadows included for that fine level of authenticity & realism
Submit a review of this product