This addon is compatible with
Microsoft Flight Simulator X
. It should also work with
Microsoft Flight Simulator X: Steam Edition
. Some developers have explicitly stated compatibilty with Steam Edition but others haven't. Check the product description below for guaranteed compatibility. Just because it doesn't mention it, this does not mean it will not work with the
Steam Edition
.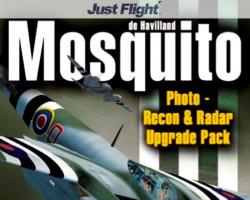 Media Format

Immediate Download

Compatibility

Microsoft Flight Simulator X and Just Flight Mosquito

File size

42 MB
This expansion requires Just Flight Mosquito to be installed first. You can buy it here.
In this package, you'll get access to four excellent model types, with four liveries each, and two more liveries for the base packaging, you'll receive a new model alongside to use in upgrade pack A. these packages together, then, will provide you with all the help you need in becoming a better pilot with each of these aircraft. Recreated in stunning realism and with a dedication to detail, you'll make it easier than ever to become a better pilot using this package.
You receive access to;
PR Mk XVI – The photo-reconnaissance machine that was used during the Second World War by the Royal Air Force, these were incredibly useful for a variety of reasons at that time – it can be an excellent choice for learning about old-school World War products

Mk30 Radar – The 'K-1' Swedish Air Force used these three-blade props with a solid nose, which also came with a radar-array fitted in the nose. It was serviced by using several open-side hatches as well as a nose cone, and came with examples that were produced by a clear Perspex dome that sat over the array. Not only was the Mk30 Radar an incredibly useful night fighter, and it was aided by an effective radar system that made it a stage over other fighters of the same era

NF. Mk II – Used in the Second World War by the 141 Squadron of the RAF, this machine was used to help to take out a Heinkel HE 177. The Mk II also carried several machine guns and cannons in the nose of the aircraft, making it useful for skirmishes and basic fights

TR-33 – Used by the TW270 Royal Navy, this standard FB Mk VI aircraft came with reinforced sides as well as a tail hook. It had a small radar thimble dome included in the nose, making it pretty useful for just about any purpose whether it was delivering a bomb or getting involved n a minor skirmish
You also get access to plenty of liveries that cover the aircraft that were used. This includes liveries such as the Series II of the Number 627 Squadron. Whatever it is that you are looking for, you'll find it here in a high definition design taking into account even the smallest of features and additions.
Additional Features
When downloading this package, you get access to the new aircraft as well as the additional liveries- but you also get the extra aircraft including in the Special Ops Upgrade Pack A. it becomes available as soon as you start to fly, presuming that you already own Pack A. if you buy it at a later date, you'll get access immediately.
You'll also get the B. Mk IV aircraft, which was used by the RAF and specifically flown by Wing Commander Peter Shan in early 1943.
Submit a review of this product
Customers Also Purchased