This addon is compatible with
Microsoft Flight Simulator X
. It should also work with
Microsoft Flight Simulator X: Steam Edition
. Some developers have explicitly stated compatibilty with Steam Edition but others haven't. Check the product description below for guaranteed compatibility. Just because it doesn't mention it, this does not mean it will not work with the
Steam Edition
.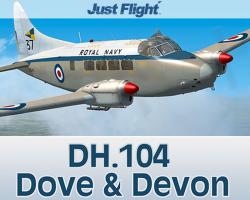 Media Format

Immediate Download

Compatibility

Microsoft Flight Simulator X inc. Steam Edition & Prepar3D (including v4)

File size

380 MB
This DH.104 Dove and Devon collection for FSX and P3D includes five variants in a total of six liveries, with analogue and modern digital avionics options.
A direct descendant of the famous 'Wooden Wonder', de Havilland's Mosquito fighter/bomber, the Dove was developed by the same designer, R. E. Bishop, who was also responsible for the DH Comet racer and the awesome Comet jet airliner. An all-metal monoplane design, the aircraft was built as a short-haul passenger and executive transport to replace the successful Dragon Rapide biplane. The Dove first flew on September 25, 1945. An immediate success, many Doves were sold from 1946 on with Argentina placing orders for 70 examples.

An initial 30 examples were delivered to the Royal Air Force, suitably converted and equipped as light transports. Named the 'Devon', the Royal Navy also operated them as transport and liaison aircraft. The Royal New Zealand Air Force operated modified Devons for many years, in fact right up to the 1970s where they were used as training machines.

Scores of airlines large and small have operated Doves on short-haul routes and executive transport duties. Many flying on with new owners, well into the late 90s. Restored examples make popular tourist attractions for air show rides and several examples travel the world today as flying museum pieces.
MODEL VARIANTS

DH.104 Dove Mk.2
This early example was fitted with a clear Perspex roof cockpit and clear Perspex 'Cock's comb' aerial, a characteristic signature of the early Doves and Devons.

DH.104 Dove Mk5/6
The cockpit now had a solid plastic/fibre roof which was painted. Many of these versions were continually upgraded in service and went on to fly with private companies as air taxis and executive transports. In this simulation you will also find a Mk.6 with modern avionics for those wishing to have modern conveniences in their classic.

DH.104 Dove Mk.8
The last version of the Gypsy Queen powered Doves, built primarily for the US market. The cockpit roof was lengthened and the roof aerials removed in favour of more modern types.

DH Devon C Mk.1 and Sea Devon C Mk. 20
As operated by the Royal Air Force and Royal Navy. These examples have the military specification cockpits, designed for a single pilot and navigator/engineer seats. The copilot had a large DeccaLog analogue flight recorder with moving pen and a complex system of dials and controls to plot the flight.

DH Devon C20 RNZAF
This is a unique variant of the Devon, built specifically for the Royal New Zealand Air Force. It is fitted with a large navigation Plexiglass dome atop the fuselage and a big viewing bubble in the forward starboard window. The wings are dominated by two three-mast aerial arrays mounted on the top surfaces and below the nose is a long tube which houses the 'LongWire' antenna, a navigational training aid.


ANALOGUE AND DIGITAL AVIONICS

In the included Dove Mk.6 there are two versions of the avionics: a conventional analogue set and a modern set of digital avionics for comms and navigation use, including a handy flight monitoring computer. Digital avionics default in the Dove Mk.8.


LIVERIES

A set of six high quality liveries are included:

BOAC
Type – Dove Mk.6 Early
Registration number – G-AOFI

LTU
Type – Dove Mk.8
Registration number – D-INKA
In the simulation this model is fitted with a set of modern digital avionics.

Royal Air Force Transport Command
Type - Devon C Mk.1
Registration number – VP981

Royal Navy
Type – Sea Devon C Mk.20
Registration number – XJ348

Royal New Zealand Air Force
Type – Devon
Registration number – NZ1803

South Australia Air Taxi
Submit a review of this product