Free Paderborn Lippstadt Airport (EDLP) Scenery for MSFS

8 reviews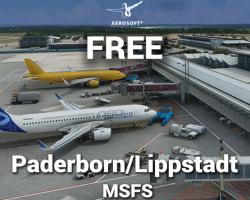 Media Format

Immediate Download

Compatibility

Microsoft Flight Simulator (MSFS) 2020 Release

File size

3.8 GB
Visit Aerosoft's home airport in the new Microsoft Flight Simulator!
Located in Germany, North Rhine Westfalia, Paderborn Airport offers a short hop to most central European airports and hubs or it can just be your home base for scenic VFR flights in the local area.
With a single runway of 2,180 meters, it can accommodate most aircraft sizes. Regardless if you're practicing short field landings in a Cessna 152 or landing a fully booked Boeing 747 Paderborn airport should have you covered!
Features:
Detailed recreation of Paderborn airport.
Custom aerial images covering the airport and surrounding area.
Current runway, taxiway, and stand layouts.
Custom taxiway signage.
Realistic night time lighting.
Accurate depiction of the terminal interior.
Custom jetway models.
Custom windsock models.
Customer Reviews
Rated 4.6/5.0 based on 8 customer reviews
09/07/2020

5

/

5

Verified Purchase

This is the first scenery package I have installed to MSFS and what a difference. Totally recommend you try it.

The latest version of MSFS is great, however this package made it much more real. Before installing I had an explore with the default settings and that was OK expect the airport was similar to many (as you should expect in a sim). Given this was free why not give it a try and so I did.

The install is simple, download, extract from the zip and run the .exe then follow the prompts. The install takes a while, clearly lots to do. After a few minutes all done, time to fly. All I did was load MSFS and go to Paderborn and there in all its glory was the results of installing the package. So simple and so much more fun to explore and fly. The screenshots you will have looked at are better went viewed for "real" in MSFS.

I will certainly be looking out for other products from Aerosoft.
09/10/2020

5

/

5

Verified Purchase

A great airport from a leader in-flight sim addons. All the benefits of Aerosoft's top end payware for free

A great addon. All the benefits of Aerosoft's top end Payware for free.
12/29/2020

5

/

5

Verified Purchase

First time downloading an add-on airport for MSFS. Neednít have been concerned. Download, unzip and double click the exe file. Done.
09/10/2020

5

/

5

Verified Purchase

Once again another great rendition of an Airport/Scenery by Airosoft This time breaking into the new flight sim MSFS 2020
09/07/2020

3

/

5

Verified Purchase

Would love to see the airport but I still can't seem to find the proper community folder using steam
09/07/2020

5

/

5

Verified Purchase

Excellent rendition of airport and grounds. The runway lighting is amazing.
09/07/2020

4

/

5

MSFS is very good, only the PMDG planes are better.
09/07/2020

5

/

5

Verified Purchase

Great work! Very professionaly done. I love it. thx
Submit a review of this product
Customers Also Purchased