This addon is compatible with
Microsoft Flight Simulator X
. It should also work with
Microsoft Flight Simulator X: Steam Edition
. Some developers have explicitly stated compatibilty with Steam Edition but others haven't. Check the product description below for guaranteed compatibility. Just because it doesn't mention it, this does not mean it will not work with the
Steam Edition
.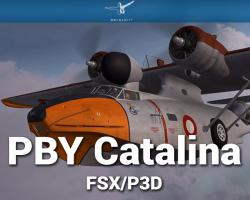 Media Format

Immediate Download

Compatibility

Microsoft Flight Simulator X inc. Steam Edition & Prepar3D v4 and v3

File size

390 MB
When it comes to using a flying boat, one of the most popular models out there is the PBY Catalina.
For pilots of a certain vintage, this classic aircraft was one of the most popular and commonly used of its time. It took to the skies in the first time in 1935, before it was transformed into the PBY-5A amphibian edition.
This add-on looks to capture the rich heart of the PBY Catalina and make sure you can experience it first-hand from the comfort of the cockpit.
With various roles served by the aircraft over time, it quickly became an essential part of the anti-submarine patrols that were needed.
Today, though, we often see the Catalina appearing at air shows and other similar events, showing us just how it left a mark on the aviation world. While itís by no means still active today, itís an aircraft that holds positive memories for a good many pilots.
Whatís New?
An impressive take on the PBY Catalina, complete with 11 new models based entirely on PBY-5, PBY 5A, and PBY-6A aircraft models.
Accurate flight behavior for each model to ensure that this flies in relation to the real models. Tested by real ex-Catalina pilots to verify its quality.
Provides two unique cockpits based on the 1940/50 era and one used by the modern Catalina aircraft, fitted with GPS equipment, etc.
Animations improved and added to help make sure every part of the aircraft, from landing gears to cowl flaps, move as they should when required.
Powered by impressive new Aerosoft sound modules, adding key sounds to major parts of the aircraft such as all switches, controls and general events.
Audio enhancements help to improve the atmosphere of the overall flight experience, ensuring that you can tune the engines simply by ear.
The fully operational 3D cockpit, with all instruments designed to match the real thing, including a fully working Bendix King radio stack and receiver.
New Sperry A-3A autopilot system included for the old-school model.
Impressive calculations put into practice to help ensure everything from cowl flap position to ambient air temperature is just right.
Realistic start-up and engine mixture controls allow for the most realistic flight experience yet.
Real dangers exist, such as engine failure modules, sparkplugs fouling and also structural icing Ė including carburetor icing.
Power reduction will take place if the aircraft is not running at the right carburetor air temperature too.
Easy to work with flight checklists and manuals will make sure you are always on the right track when flying the Catalina.
Submit a review of this product
Customers Also Purchased