This addon is compatible with
Microsoft Flight Simulator X
. It should also work with
Microsoft Flight Simulator X: Steam Edition
. Some developers have explicitly stated compatibilty with Steam Edition but others haven't. Check the product description below for guaranteed compatibility. Just because it doesn't mention it, this does not mean it will not work with the
Steam Edition
.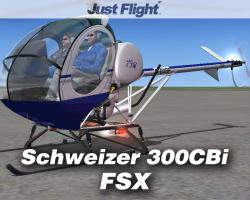 Media Format

Immediate Download

Compatibility

Microsoft Flight Simulator X & 2004

File size

129 MB
For any simulation fan, the prize should always be true and genuine authenticity Ė if you arenít able to fire up your flight simulator and truly enjoy yourself, and then you are missing out big time! Thankfully, with the help of this fantastic remake of the Schweizer 300CBi helicopter, by Just Flight, you are able to really see how it flies and performs at all times. This glimpse into the power, versatility and balance of the aircraft is by far and away one of the best of its kind, helping you fly far more balanced than ever before.
Without a doubt, this is one of the most popular general aviation utility aircraft around; itís commonly used as a training piece, as well, as itís just so easy to master and fly. If you arenít someone who typically takes on helicopters then you might want to start with this as it can serve as the perfect training platform for you.
This remake of the helicopter takes on everything that you would hope to see in an aircraft remake and recreates it perfectly, giving you the finest balance between performance and general stability.
Additionally, this aircraft comes with a variety of excellent tools added in to help you fully customize the flight experience for yourself. This makes it a lot easier to get involved in the flight properly, and make it easier than ever before to really start learning as you keep flying!
About Just Flight
Just Flight are a well-known name within the flight simulation industry because they typically produce products that come with a huge wealth of features and improvements over the typical FSX and FS2004 aircraft provided. This makes your life so much easier, and ensures that you will be able to just take on a small amount each time until you feel truly comfortable, whilst giving you capabilities to take the aircraft to its very max if you so choose.
For most people, though, the enjoyment of flying something like the 300CBi is the wealth of versatility that it offers; because itsí a primary training aircraft today, it has many simple features that you can get your head around in no time at all. It just takes a bit of time, development and learning to get the skillset correct.
These key factors of the aircraft are captured perfectly by Just Flight as they really make it stand out as a simple learning experience.
Whilst some might be put off by the advanced learning curve needed to fly some helicopters, with this no such problems actually exist. Youíll be able to take off nice and simply into the air and keep yourself going.
Because Just Flight put so much stock and concentration into the aircraft development cycle, you can trust that this product will really give you all of the bells & whistles needed to get the most out of flying within either Microsoft simulator, helping you get the most out of all the little features you maybe hadnít considered until now.
Whatís New?
As you might expect, many changes have been included that take huge precedent over many of the most important features within the flight simulator itself. From the graphical capacity of the helicopter itself Ė far outdoing the originals Ė to the actual level of control that you have over any given flight, this can be the perfect solution for anyone who feels a little bit underwhelmed by the vanilla selections.
This will be a very useful project to have installed because it lets you see what FSX can do when people have the time and requirements needed to really re-create specific aircraft. If you want to get the full experience then you need to start thinking about how you can best implement the most important aspects of using a Just Flight package, and this aircraft has been designed to give you a truly open cockpit that you will be able to get full control over.
Now, youíll have no problems in scaling up your performance or your responsibilities in the air as youíll gradually grow and develop with the aircraft that you originally took off with, learning the 300CBi as you go and get used to its various little quirks.
Itís these simple changes and arrangements that can make flying so fun in a simulator and this is what Just Flight excels at opening up to flight simulations users. By giving you a more realistic simulation, you will become a more rounded pilot.
Key Features
Worried that you might find learning this aircraft a bit of a challenge? Then allay these fears with a comprehensive manual that is included with the project. This will give you all the help that you need in covering your technical details, as well as of the little parts of the panel that might just look totally crazy at the moment!

Hugely realistic textures have been created from scratch to make sure that the aircraft looks the part and will also show up well with any other JF mods that you have installed. Attention to detail is vital for the developers and it shows with the accuracy in the main textures as well as the variety of extra liveries that were added in on top

Cockpit night lighting is a very useful addition, too as youíll be able to see everything in front of you during those midnight flights! Extra lighting elsewhere has been added too, so that it seems far more like the real thing and increases your visibility

Unique sounds added in to match the massive levels of detail and style within the cockpit and the exterior; everything maintains a hugely realistic level throughout making it easy to become immersed with

Authentic animations that include everything from the swash plates moving to the belts rotating; youíll see the aircraft come to life around you as you take off and then start to maintain key signals whilst you are flying, improving the quality of the experience massively as you go
Submit a review of this product
Customers Also Purchased