This addon is compatible with
Microsoft Flight Simulator X
. It should also work with
Microsoft Flight Simulator X: Steam Edition
. Some developers have explicitly stated compatibilty with Steam Edition but others haven't. Check the product description below for guaranteed compatibility. Just because it doesn't mention it, this does not mean it will not work with the
Steam Edition
.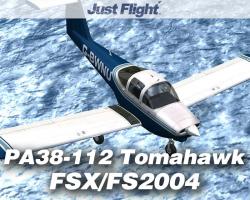 Media Format

Immediate Download

Compatibility

Microsoft Flight Simulator X & 2004

File size

35 MB
Whilst one of the main pleasures of using a flight simulator is being able to jet off into the skies in something new entirely, this project makes it a lot easier to actually enjoy; the P38-122 Tomahawk is a well-known aircraft that takes its name from the projectile weapon, although it carries none of the threat of its namesake. An incredibly friendly general aviation aircraft that is provided by the excellent Just Flight, youíll be able to fly a massively popular aircraft that comes with a huge list of fans from all across the world.
When you first jump into the cockpit, youíll easily be able to see why; out of all the aircraft out there in terms of style and design, very few can come close to the excellent Tomahawk for balance and style. Itís a massively popular training aircraft, and itís easy to see why Ė nothing is as simple to get into as using this brilliant little plane. Itís small enough to easily get control over and not feel overwhelmed, whilst being fast enough and powerful enough to really let you feel like you are conquering the skies in your new plane!
Itís a brilliant like aircraft that Just Flight have captured absolutely perfectly, making it easier than ever to just jet off into the skies and really enjoy yourself. If you want a genuine representation of the Tomahawk in all of its glory, you only need to download this product!
What You Get
Youíll get access to a truly resplendent recreation of this aircraft making sure that you are able to fly it within moments of downloading it. Just Flight pay a lot of attention to making the installation and usability of their products as impressive as the attention to detail and realism, so you should have no problem using this right away.
Life is nice and simple in the cockpit of an aircraft, if you know how to make it simple; this aircraft will give you the best chance of doing so thanks to the massive attention to detail of the cockpit. In terms of features, itís incredibly impressive; everything that you could possibly need to steer this piece of brilliance through the skies has been included for you. Now, it should be something that youíll truly enjoy learning how to fly thanks to the list of new features that have been added in.
The aircraft itself arrives in various registrations and liveries, too, so youíll be able to take off in various colors and formats of this famous piece of aviation history. Looking to get the most out of your flight? Then this is just what you need to do that! Itís easy to fly, easy to love, and even more enjoyable to start mastering. With all of the minor additions and changes that have been included by Just Flight, youíll really be able to get used to this aircraft being known as a training model as itís just so simple to fly!
Key Features
The simplicity of flight is matched up with the actual features available to you; with true avionics included to make sure that the aircraft flies just as it would have for you in the real-world, the accuracy is as close as youíll get in a flight simulator for quite some time in the near & distant future!

Available to fly in French, German, American and British registration models so you can represent your own country perfectly if you hail from any of these lands!

A massive rework job has been carried out on the graphics of the aircraft, too. Now, it looks just as it should and really captures the look and feel of the real thing Ė all of the little features have been included across all of the livery styles included, ensuring that all 17 of the aircraft featured within this massive package will look as realistic as they possibly can! This is vital for having the ability to really acknowledge what you are flying

Sounds have been taken from the real thing as well, ensuring that you get the actual sounds of the aircraft that you would have in the real world; these are taken from impeccable sources to make sure that you can fly this aircraft in full confidence that it is making the right noises for you

A new cockpit that is both realistic in terms of the features added in, as well as the actual look and feel, has been included. This cockpit is one of the most enjoyable out there, and makes it nice and simple to really start flying with ease thanks to all of the clear and easy to master labeling for each part of the aircraft. Worried about getting overwhelmed? Then this is one of the best cockpits out there for simplicity!

Compatible with both FSX and FS2004 so if you are still using an older flight simulator youíll be able to easily enjoy this product, giving you all the features you could possibly need to start seeing long-term results and performance from your own aviation education

Based on truly realistic detail and information that has come from official locations, this makes your life easier than ever and ensures that youíll be able to really enjoy yourself moving forward Ė if you are someone who needs to have the real thing in their simulator, then this is the closest remake of the Tomahawk yet!

Virtual cockpit makes it easier to start reading and learning from the various knobs that fill up your aircraft Ė this makes it a lot quicker to start running through these problems and giving yourself the kind of knowledge base that you need to be a strong and effective pilot. When you can read all of the gauges and labels coming back to you, youíll be more than ready to fly this aircraft for the long-term!

The most complete experience of this aircraft, making learning and improving as a pilot much easier thanks to its user-friendly style which has been captured perfectly
Submit a review of this product
Customers Also Purchased