This addon is compatible with
Microsoft Flight Simulator X
. It should also work with
Microsoft Flight Simulator X: Steam Edition
. Some developers have explicitly stated compatibilty with Steam Edition but others haven't. Check the product description below for guaranteed compatibility. Just because it doesn't mention it, this does not mean it will not work with the
Steam Edition
.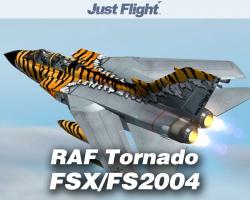 Media Format

Immediate Download

Compatibility

Microsoft Flight Simulator X & 2004

File size

71 MB
FSX provides us with a huge wealth of different planes to go, and in so many different varieties. Whether it's a helicopter or a glider, you'll find it in here. However, one of the most regularly used planes in recent years by the RAF, the Tornado, is sorely lacking in appearance.
However, this brilliant Just Flight creation of the RAF Tornado is perfect aligned to give you the features and balance that you are looking for. If you are desperate to hit the skies with one of these awesome pieces of masterwork, then look no further.
About The Tornado
One of the most potent ground attack planes used in British history, it's a massively popular plane with both weapons and air enthusiasts. The speed, specifications and style of the plane has been perfectly represented. The real Tornado was hailed for its immaculate attention to detail, and this virtual equivalent is no different – using a wealth of data to make the perfect design for your own simulation needs, this package is officially recognized by the Royal Air Force and gives you a list of aircraft to pick from to take to the skies at with incredible speed.
In total, you receive 16 different liveries and these include RAF, Luftwaffe, Italian and Royal Saudi Air Force colors to give you the perfect feel no matter who you want to represent as you blitz across the skies at an incredible speed. The liveries provided are;
IDS RAF Desert Storm
IDS RAF Desert Storm (MiG Eater ZA447)
IDS Italian standard livery
IDS Italian Tiger Meet livery
IDS German Luftwaffe
IDS German Marine
(Recce) German Tiger Meet
IDS Saudi Arabian Air Force standard camouflage
IDS German Navy/Marineflieger, MFG-2, colours of August 2002
GR1A 13 Sqn RAF
GR1A. 2 Sqn RAF. ZA401/R as it appeared during Exercise Strong Resolve '95
GR4 14 Sqn RAF
GR4. 617 Dam Busters Sqn
GR4. 9 Sqn RAF Standard liver
GR4. 9 (IXB) Sqn RAF Marham Operation Telic (Iraq 2003) livery Jan 2003.
GR4A. 2 Sqn RAF in the standard Dark Sea Grey/Camouflage Grey color scheme
The detail that went into the design of these Tornado designs can give you an immediate appreciation of the sheer power and force of the plane, as well as a keen understanding of how much detail goes into the actual creation and look – not only does it perform at an incredible level, it's one of the most esthetically pleasing planes around too.
What You Get
Aside from being provided access to one of the most exciting planes in recent history, you also get three totally customized airports to take off from that give you the perfect terrain to try out all of the variety of features that come installed in the plane, not least the radar or ground proximity systems.
You will be provided with three separate bases that you can take off from, and these include the RAF Marham, RAF Lossiemouth and Luftwaffe base Norvenich, all of which have previously been used in the past for Tornado missions and make outstanding places to get started with.
You can even enjoy refueling as a whole new feature added into the game entirely from this addition – you simply fly behind a VC-10 and/or KC-10 and get re-fuelled! Can you stay on track long enough to get the refueling you need?
By including all of the main flight systems that you would expect to see, including a high-detail HUD that gives you magnetic readings, airspeeds and other features just like you would get in the real thing you can really maximize your flight experience.
There's even been a Ground Proximity Warning System included to give you all the realism you need – everything you could possibly require from a realistic version of a Tornado has been added here. Everything that you can pull off in a Tornado is documented in-game with sound files and text messages that are based on real NATO documents, so if you want to learn genuine procedures for hitting the sky the way the real troops do, these documents are a great place to get started.
Note: The additional features are not included for Microsoft Flight Simulator X
Key Features
Completely animated cockpit that shows the locking lever inside the cockpit, giving you an extra dose of brilliant realism when you take to the skies in your Tornado in the first-person
Pilots that are visible from the outside, who move depending on where you are going and who actually take their masks off when the canopy is opened
Control surfaces are fully detailed and animated to make sure that you can see and use everything that you might have to – airbrakes, flaps, rudders and ailerons are all fully functional and operate as you go, giving you a lifelike representation of the interior of a Tornado
The thrust reverser, refueling probe, wing sweep and afterburners are all fully animated too, along with a wealth of other minor features to make sure that you feel like you are truly in command of the real thing – not some cheap imitation
The cockpit has been created in immensely high detail with every instrument working as it should so that you can play with every gadget included in the makeup of a Tornado
Important cockpit functions like the map and rear view mirrors will move as the flight takes place, giving you even more doses of realism from inside the cockpit
Various sound sets for Italian, English & German pilots to make sure you get instructions you can easily understand
Editable configuration file so you can tone the realism up or down depending on how serious you want the experience
Boom system, as well as hose/drogue systems included to give you maximum control of your flight
Animated enemy threat display so that you can keep track of any incoming bogies!
Radar system locked on to the nearest KC-10 or VC-10 tanker if you need to re-fuel and can't make it to an airport
Submit a review of this product
Customers Also Purchased