This addon is compatible with
Microsoft Flight Simulator X
. It should also work with
Microsoft Flight Simulator X: Steam Edition
. Some developers have explicitly stated compatibilty with Steam Edition but others haven't. Check the product description below for guaranteed compatibility. Just because it doesn't mention it, this does not mean it will not work with the
Steam Edition
.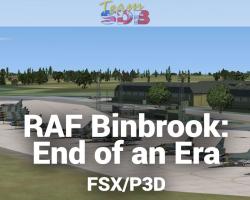 Media Format

Immediate Download

Compatibility

Microsoft Flight Simulator X inc. Steam Edition & Prepar3D

File size

100 MB
The RAF Air Base RAF Binbrook is among the most well-known air bases within the Lincolnshire area. Although it shut down in the 1980s, from its development in 1939 until closure in 1988 it played a major role in military and civilian aviation in the region for some time. indeed, today, the old domestic site, where married couples lived, has been kept and revived into a new village known as Brookenby.
The air base was most commonly used by Bomber Command and provided a significant strategic starting point for many a bombing run. That being said, post-war it served as a home for other groups such as the Central Fighter Establishment. Perhaps its most famous use though was the base where the last two RAF squadrons flying the English Electric Lightning aircraft from 1965-1988.
Today, much of the old area is gone, replaced by industrial estate housing for businesses. It also offers a large memorial for the 460 Squadron with names of former heroes who lost their lives.
This add-on for FSX and P3D, then, relives the final decade of the air base before it was closed down and reconverted into a village. If you would like to add a nice piece of aviation history from British military performance, this is the place to start.
Key Features
The airbase still played host to major aircraft such as the Lightnings, which helps to add life to the air base.
You'll see various features come to life when visiting here, with a full complement of every building on-site included according to authentic imagery.
Hangars and air base buildings sit exactly where they should, adding a much more precise level of detail to the air base. Based on realistic imagery to capture the perfect look and feel.
Technical sites and accommodation are included, all representative of the period itself. Freshly developed buildings help to capture that proper British air base feeling from the 80s.
Operational night lighting is included to help make sure that you can make an approach as likely as possible to be a success.
New and improved static aircraft litter the air base, with English Electric Lightning F.6 and T.5 aircraft lined up around the air base, helping to add much-needed character and life.
Navigational aids that help to develop an easier means of access should you wish to fly here using aids.
You can view the user notes/manual here.
Submit a review of this product
Customers Also Purchased