This addon is compatible with
Microsoft Flight Simulator X
. It should also work with
Microsoft Flight Simulator X: Steam Edition
. Some developers have explicitly stated compatibilty with Steam Edition but others haven't. Check the product description below for guaranteed compatibility. Just because it doesn't mention it, this does not mean it will not work with the
Steam Edition
.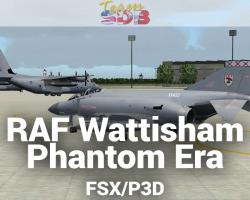 Media Format

Immediate Download

Compatibility

Microsoft Flight Simulator X inc. Steam Edition & Prepar3D

File size

32 MB
The RAF Wattisham Phantom Era modification is just what you need if you find yourself looking around FSX and P3D, despairing at the lack of quality and consideration for Air Force Bases. This takes a committed and detailed take on the old Wattisham base, and makes sure that it looks the way it did if you were to hop back in time and come here in the 1980s. Not only does this take a comprehensive look at the whole scenery for the region, but it makes sure that it leaves a detailed look and feel beyond the original style.
This is based on the era when the old Phantom IIs and F-4J aircraft would have sat here. It adds another little ray of realism to the world in a specific location, helping to improve the depth and care of realism across your simulator.
New Improvements
Takes a comprehensive look at the airport and adds in everything that is missing. With a full complement of new hangers and Hardened Aircraft Shelters you are left with an Air Base that looks the way that it should have in the first place.

Makes use of a new Technical Site and Accommodation, representative of the 1980s. Huge amounts of research and detail went into making sure these look the very best that they can.

Takes the whole navigational aids and improves them massively making sure that you can arrive here by using VOR, NDB and ILS accordingly.

Airfield, street and night lighting all makes sure that you can arrive here and see where you are going. This boosts visibility to a high point, making sure that flights to the Wattisham base no longer has to be about trying to fly with your eyes shut!

Bloodhound missiles are included for a nice touch, created by Steve Anderson of the RAF Airfields mod. A nice touch and one that adds even more to the design in general.

Phantom FGR-2 and F-48J aircraft by Fernando Martinez line up around the Air Base, too, adding yet more authenticity and realism to the location. These are in action over a 24hr period, too, so you can see the airport jumping to life in all manners.

Visiting C-130s by Henry Tomkiewicz have been used, as well, as they leave and depart for the RAF Air Base, Lyneham.

Visiting Phantoms come from the 29 Squadron RAF Consingby.

All scenery has been modified and aligned to work alongside VFR Photographic Scenery, so you can use these two mods in conjunction with one another.

All static and AI aircraft are scalable to match the level of performance that your machine is capable of.
Submit a review of this product
Customers Also Purchased