This addon is compatible with
Microsoft Flight Simulator X
. It should also work with
Microsoft Flight Simulator X: Steam Edition
. Some developers have explicitly stated compatibilty with Steam Edition but others haven't. Check the product description below for guaranteed compatibility. Just because it doesn't mention it, this does not mean it will not work with the
Steam Edition
.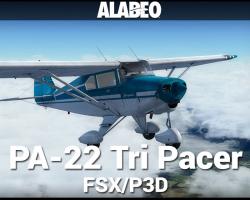 Media Format

Immediate Download

Compatibility

Microsoft Flight Simulator X inc. Steam Edition & Prepar3D (v3 and v4)

File size

300 MB
For years, the Tri-Pacer has been a prominent name in the Piper family of aircraft. Frist released in 1949 as the Piper PA-20, the PA-22 came along in 1950 and enjoyed a long developmental cycle. From 1950-1964, the PA-22 was produced close to 9,500 times and became a major part of the Piper families rise to prominence. Now seen as an aircraft that led the way for high-wing aircraft to become a then-modern trend.
With the fabric-covered aluminum frames, the aircraft stood out a mile away from most standard competition. However, it was known as a rugged, strong and sturdy aircraft that was spacious inside for pilots. Despite that, the use of the 180HP engine made sure that that the PA-22 Tri-Pacer never felt too slow or cumbersome.
Users of Prepar3D and Flight Simulator X now offers a comprehensive solution for both simulators. This take on the PA-22 delivers a realistic appraisal of its performance, offering an easy way for users to feel comfortable in the cockpit.
From flights in Cuba to Katanga, the aircraft has played a major role in many domestic and international scenarios over the years. Now, you can enjoy flying an aircraft that spent much of its time providing reconnaissance, aid, and support in various parts of the world in both military and civilian contexts.
Key Features
Authentic flight behavior ensures that the PA-22 Tri-Pacer comes with the strengths and weaknesses that you might expect. True to form.
An outstanding quality of model and material selection means the aircraft shines and reflects just as you would see in real-life.
Attention to detail in realism makes this easy to fly. Impressive features help to add that extra layer of challenge, too, showing the aircraft' vintage without exaggeration.
Performance is balanced out accordingly, offering a strong and sturdy aircraft that can handle itself in extreme weather conditions.
Dynamic side-view prop effect makes sure you can easily snap promotional shots and images for your own personal collection.
3D modeling and textures stay true to the real aircraft, with scale, size and interior cockpit details as detailed as FSX and P3D allow.
Blank textures are included for making your own livery, should you wish to fly the Tri-Pacer flying your own colors.
Dynamic propeller shines deliver a very realistic detail that makes flying the aircraft a more immersive and realistic experience overall.
Submit a review of this product