This addon is compatible with
Microsoft Flight Simulator X
. It should also work with
Microsoft Flight Simulator X: Steam Edition
. Some developers have explicitly stated compatibilty with Steam Edition but others haven't. Check the product description below for guaranteed compatibility. Just because it doesn't mention it, this does not mean it will not work with the
Steam Edition
.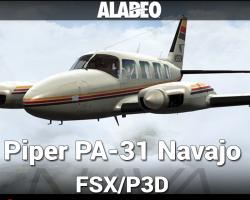 Media Format

Immediate Download

Compatibility

Microsoft Flight Simulator X inc. Steam Edition & Prepar3D v2, v3, v4, v5*

File size

370 MB
*Fully compatible with P3Dv5 however please follow the installation instructions here.
The Piper PA-31 Navajo is a popular aircraft mod, and one that has finally been brought to life by Alabeo to be the very best that it can. If you are ever interested in making sure you can start changing and improving your position as a flight connoisseur, then you need to have access to the right "blend" and feel of aircraft.
Well, with the PA-31 you have that waiting for you in abundance. This is an aircraft that knows how to come across well, and how to sell an image & feeling that makes it easily different from the norm.
What's Included?
A range of new liveries, with 6 HD liveries making it into the package to give it the best look and variety of looks possible.

1 HD blank livery to help you fly the aircraft according to the design that you like the most personally. Allows plenty of choice and variety for you to pick from.

PA31 Emergency Checklist, Normal Checklist, Performance Tables and References PDF. This helps you stay on track with the official word and ensures you are flying the aircraft properly.

Carenado GNS530 PDF as well as Weather Radar and Recommended Settings PDF to help you stay well on track with your flights.
What's New?
Makes use of the brilliant Carenado GNS530 /w RealityXP integration option, meaning that you can get the most devoted level of flight realism possible.

Original autopilot features are still installed meaning that you can fly the aircraft on the kind of autopilot that the real experts are used to using.

Brilliant Alabeo HD textures going as high as 4096 x 4096 to give you unprecedented depth and control within the image of the aircraft. Helps to create the perfect look and image, regardless of what you usually like.

Volumetric side view prop effect to make sure you are left with a range of views that gives you the total image of the aircraft.

Dynamic propeller shine effects that look brilliant, adding another layer of realism to the front of the aircraft.

32-bit Lycoming TIO-540-A 3D sounds ensures that you are left with a fantastic cacophony of sounds coming from the aircraft, ensuring that it sounds as authentic as it possibly can along the way.

Customizable panels for controlling everything from the transparency of the windows to the way that instruments reflect as you fly, giving you a much greater level of synchronization and control over the rest of the flight.

Real flight behavior which has been compared to the real thing, making sure you are flying a take on the PA-31 that flies just as it should. Nothing has been left to chance. Tested by real pilots just to guarantee you are getting something that even the real boys would have appreciated!

Realistic night lighting to help you stay on track during those dark flights at night.

Makes use of Flightt1 GTN 750 integration alongside Reality XP GNS530 and Carenado GNS530. Also uses full cold and dark start options to help you take off in the way that you want.

Fully compatible with FSX and P3D 2.0.
Submit a review of this product
Customers Also Purchased