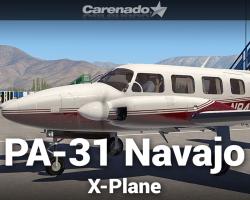 Media Format

Immediate Download

Compatibility

X-Plane 11

File size

450 MB
While some might not feel comfortable flying an aircraft first flown in 1964, the Piper PA-31 Navajo is a trailblazer in modern aviation. It was one of the most popular aircraft of its era and is still in active service today. Despite being out of production since 1984, the happy blend of high-quality features, fuel economy and reliability makes the PA-31 Navajo a very popular aircraft indeed. Now, X-Plane 11 users can take to the skies in this wildly popular aircraft!
Flying using its powerful Lycoming engines, these general aviation aircraft were always seen as a popular choice for small-scale cargo missions and also corporate flying. If you would like to take your seat in the cockpit of a very popular aircraft, this might just be the perfect way for you to do just that. This recreation of the Piper PA-31 Navajo for X-Plane 11 brings a classic aircraft to life in a very modern simulator.
This version, entirely made for X-Plane 11, delivers a hugely impressive, FPS-friendly aviation experience that you can find works well on most minimum spec X-Plane 11 compatible hardware. Add in the fact that it is fully VR compatible, too, and many users like to use this aircraft to get a little glimpse into what aviation might have once been.
What's New?
Highly impressive, immersive take on the PA-31 Navajo whilst adhering to XP11 rulings.
New and improved engine dynamics follow the latest XP11 dynamics engine.
Flight physics adapted and changed to fit perfectly with the new XP11 demands.
Ground handling adjusted to fit in with new changes as per the XP11 engine.
Makes use of physically based rendering for the best balance in material and texture design.
PBR materials all created using high-quality film and gaming industry software.
X-Plane GNS530 is provided, making it easy to use without FPS limitations.
Goodway compatible for anyone really looking to improve their overall performance.
Authentic aviation behavior in-line with the real aircraft in terms of flight challenge.
Weight and balance adjusted and perfected to fit in with PA-31 specifications.
Tested by pilots to ensure the best possible accuracy in looks and in performance.
What's Included?
6 HD liveries all designed to accurately represent real takes on the PA-31 Navajo.
1 HD blank livery that makes it simple to develop your own livery for the PA-31.
PA31 Normal and Emergency Procedure PDF for better aircraft handling.
PA31 Performance Tables PDF which makes staying within your limits easier.
PA31 Quick Reference PDF to help quickly learn and remind yourself of key functions.
Recommended Settings PDF for X-Plane 11 to get the most out of your simulation.
Submit a review of this product
Customers Also Purchased