Piper PA-46-350P Malibu Mirage HD Series for X-Plane

1 reviews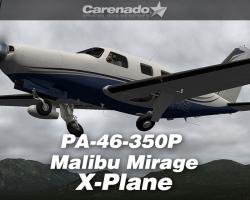 Media Format

Immediate Download

Compatibility

X-Plane 10.40 (or higher)

File size

227 MB
Now version 3.2.
The Piper PA-46-350P has been around for quite some time and in that timeframe it's managed to establish itself as an absolute must have within the world of aviation. The Piper range in general has always been very well received, and in this day and age they tend to get a lot of positive press due to their ease of use and general availability. This creation by the brilliant Carenado gives you access to this version of the PA in all of its glory; it's recreated faithfully to match the real thing as closely as it possibly could.
The design and the overall nature of the project means that this can be one of the best aircraft you could add into your flight simulator – it becomes incredibly easy to manage a flight simulation experience when you have the right aircraft, after all!
This will help you get to grips with the overall nature of an aircraft like this relatively easily as it matches all of the real attributes and statistics of the real thing. This makes it incredibly easy to hope into and start using quickly and easily, getting around the skies in just about no time at all!
What You Get
5 HD liveries designed to fit the true nature and style of the Piper PA. This is very important as we all want a good bit of authenticity added into our enjoyment of a flight simulator, and this does that in spades!

Fancy yourself as a bit of an artist? Then you should try your hand at decorating the HD blank livery that you get with this package. Add on your own branding or logo and fly away into the sunset in your own specifically branded and managed version of the Piper PA!

Detailed PDF documents that provide you with excellent hints and tips about flying this particular aircraft. They can be used on both mobile and tablet devices, so you can make sure that you have all the help that you need available to you on another device. This includes things like performance tables, procedures for emergency and normal flight, autopilot assistance and EMIS management. This will help you get to grips with the more challenging of the features provided by the Piper PA, and get to really understand how you can make it do as you wish

The Recommended Settings PDF that is also included will make it incredibly easy to get the message across with very little fuss. You'll be able to get full control over the simulator if you are able to use the right settings. This easy to read PDF will make sure you understand what fits for your own machine and what could benefit you from a minor change – up or down – in terms of the graphical output. This can help to either improve the overall look and feeling of what you are doing, or it can help to improve performance
Key Features
Truly authentic night light effect panels on the cockpit and the actual panels inside the cockpit. Worried that you might be flying in the wrong manner or putting yourself in danger by not having full visibility at night? Then these realistic lights will give you all the help that you need in navigating the board and finding the right buttons

Stunning flight settings that really go along with the real Piper PA aircraft. If you are worried about the aircraft feeling off in any capacity you can be sure that this is just what you are looking for. This makes it so much easier to manage the flight in the way that you had originally intended and ensure that the aircraft flies true to the real thing

This has been tested and prepared by real pilots so you can be sure that it actually follows the right specifications – it's viewed as the most realistic attempt at this aircraft yet. The weight and balance has been perfected through hours of management and study to get it just right

Highly quality designs that include the animated pilots. This helps to add to the overall atmosphere of the design and also ensures that the aircraft will feel as real as it actually flies – no more ghost pilots and no more worrying about the aircraft being managed by nobody!

The panels inside the cockpit are all fully customizable – this includes things like the transparency of the windows, the reflections that come back from the instruments on the windows, and the static elements that come along with any kind of aircraft to solidify the true feeling of realism and class

A hugely realistic, high quality HDR lighting system. This looks truly stunning during the night and gives you the help that you need in getting the best view possible from the exterior

A whole new range of 3D stereo sounds that were recorded from the real Piper PA aircraft. Every sound that you hear is something that you would hear if you were aboard the real thing, which will make your life so much easier in terms of buying into the experience properly

Volumetric side view prop effects added in for extra good measure. Wanting to see what is going on outside of the aircraft so that you can view it from a new way? Then you can make the most of this classic Carenado feature that they use in many releases

The 3D gauges have been made to look exactly as they should with many hours of study, research and editing put in to make sure that they look the very best that they can, and that they capture the realistic nature of being inside the cockpit of a Piper PA

HD quality textures that really do match up with the best; this will give you that extra level of class and quality along the way. This makes it so much easier to actually manage and prepare for flight as you can really see the detail coming from inside and out
Customer Reviews
Rated 5.0/5.0 based on 1 customer reviews
09/13/2014

5

/

5

Carenado's addition of the Piper PA-46-350P Malibu Mirage to their stunning HD Series should get X-Plane users exited, as it is just for them. This revitalized model is compatible with versions of X-Plane 10.21 and higher, both 64 and 32 bit, and is available now as an immediate download. Since this add-on is specifically for X-Plane, Carenado haven't had to sacrifice anything to make sure that the package works with multiple platforms. This means that what you are getting, is exactly what Carenado envisioned.

The beautifully crafted model can be painted in one of five clean and stylish liveries, each offering something a little bit different. There is also a blank texture for you to use as a template and it, of course, boasts the same high quality as the included liveries. The exterior of the model is assisted by an advanced HDR lighting system that brings all the textures to life, creating a compelling visual experience before you even get off the ground. While the volumetric propeller effect adds further depth and realism to the aircraft when in flight.

There are some special touches that go a long way to creating a truly immersive experience. Everything from animated pilots, fully articulated tray tables and cabin lights that can be turned on and off independently. So many things are in place that give you the tools to achieve incredibly realistic and atmospheric flights, based on your own preferences. You can even choose to customize some of the visuals, with a panel that allows you to adjust window transparency, instrument reflections and static elements.

Inside the virtual cockpit, realistic lighting plays out across the panel and 3D gauges, creating a comfortable and genuine cockpit experience. This is heightened by an original and high quality digital stereo sound set, recorded directly from the real aircraft, which is about as true-to-life as you can get. These recordings translate very well to the X-Plane environment, both inside and outside the aircraft. They are perfectly matched to the feel and performance of this Malibu Mirage, which has been tested by real pilots to ensure the accuracy of the flight dynamics, and the authenticity of the flight experience.
Submit a review of this product
Customers Also Purchased