This addon is compatible with
Microsoft Flight Simulator X
. It should also work with
Microsoft Flight Simulator X: Steam Edition
. Some developers have explicitly stated compatibilty with Steam Edition but others haven't. Check the product description below for guaranteed compatibility. Just because it doesn't mention it, this does not mean it will not work with the
Steam Edition
.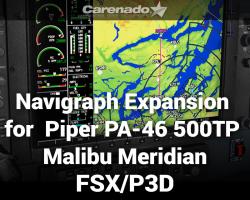 Media Format

Immediate Download

Compatibility

Microsoft Flight Simulator X inc. Steam Edition & Prepar3D v2, v3, v4, v5* AND Piper PA-46 500TP Malibu Meridian HD Series for FSX/P3D

File size

80 MB
NOTE: This package is specifically designed for use with the Piper PA-46 500tp Meridian G1000. This is for Flight Simulator X and Prepar3D ONLY. You MUST have access to the original package, should you wish to make use of this Navigraph Expansion add-on.
*Fully compatible with P3Dv5 however please follow the installation instructions here.
if you own the original Piper PA-46 500TP, you can use this add-on to help add an extra layer of depth to your analytical capabilities. Users will be able to appreciate a much more refined user experience, delivering a much deeper level of usage for your Navigraph. By adding the right kind of features and addressing issues with depth and feature-lite concerns over the original, this adds key Navigraph features that pilots can utilize immediately.
This can help to improve flight control and consistency when at the helm of a Piper PA-46 500TP. With the extra features, users should find it easier to stay in full control of flight analysis.
What's Included?
Within the package, users will find a G1000 waiting for them with a full Navigraph database. Over time, this can be upgraded and modernized to help keep the Navigraph data within as clear and as consistent as it can be. You will also receive a full G1000 PDF manual to read over. Using this, you can fully understand how to use the software in conjunction with the Piper PA-46 500TP.
It makes use of an AIRAC Cycle 1310, too, updated to October 2013 at the time of writing.
Key Features
A fully updateable database allows your Navigraph to always be as up-to-date as is possible.
AIRAC Cycle 1310 up to October 2013 is included for easier use and a modernized approach.
G1000 Prodigy is included to help further expand upon the features and capabilities that you have access to.
The ability to easily load up departure procedures (DID) and arrivals (STAR) with ease.
Full control over approaches (RNAV, ILS, VOR etc.) will keep your flight management easy to control.
Multi-color screen display provides an easy to use system that should make basic flight management easier.
VNAV features are fully operational, making it easier to utilize the full features of your Navigraph.
Submit a review of this product
Customers Also Purchased