VC10 Jetliner for FSX/P3D

1 reviews

This addon is compatible with
Microsoft Flight Simulator X
. It should also work with
Microsoft Flight Simulator X: Steam Edition
. Some developers have explicitly stated compatibilty with Steam Edition but others haven't. Check the product description below for guaranteed compatibility. Just because it doesn't mention it, this does not mean it will not work with the
Steam Edition
.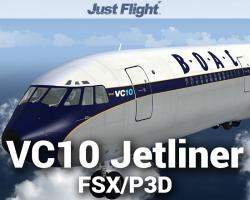 Media Format

Immediate Download

Compatibility

Microsoft Flight Simulator X inc. Steam Edition & Prepar3D (all versions including v4)

File size

432 MB
The VC10 is widely regarded as one of the most graceful jet airliners ever created, with its long slim fuselage, clean angled-back wings and graceful swept-back tail surfaces. The aircraft was designed by Vickers-Armstrongs to fly on long-distance BOAC routes between the UK and Africa, which required an aircraft capable of operating from hot airports at high altitudes with short runways. This resulted in an aircraft with superb performance, second only to the supersonic Concorde in terms of speed for a jet airliner.

VC10 Jetliner for Flight Simulator X and Prepar3D includes an accurately modelled Type 1101 (known as the BOAC Standard variant) variant in 10 liveries, including a variety of BOAC and British Airways schemes.

The detailed virtual cockpit features 3D instruments, authentic wear and tear, and all four flight crew positions (Captain, Co-Pilot, Flight Engineer and Navigator) modelled in high detail. Comprehensive but easy-to-use systems are simulated, including a realistic fuel system with transfer and jettison functionality, an autopilot with pitch and bank hold, an autothrottle with IAS and MACH hold capabilities, and simulated powered flying control units (PFCUs). Realistic engine start procedures are possible with ground air supply and cross-bleed, and autostart (Ctrl+E) compatibility allows you to get airborne quickly.

The VC10 is brought to life with distinctive Rolls-Royce Conway engine sounds and realistic and accurate flight dynamics based on real-world performance and handling data as well as input from ex-VC10 crew.
MODEL

Accurately modelled Type 1101 (BOAC Standard), built using real-world aircraft plans
Many detailed animations, including:
- Accurate landing gear operations
- Authentic flaps/slat action
- Variable-incidence tailplane
- Windshield wipers (separate Captain and Co-Pilot controls)
- Passenger doors (fore and aft) and cargo doors (port and starboard)
- Animated pilots
- Thrust reverser doors on outboard engines
- Retractable taxi/landing lights
Ground equipment (air stairs and baggage carts)
Specular map to give realistic light effects on the aircraft surfaces
Bump mapping to give a more realistic 3D effect to aircraft liveries

COCKPIT

3D cockpit with virtually all the hundreds of switches, knobs and levers animated and functional. Many gauges are modelled in 3D for smooth operation.
All four flight crew positions modelled (Captain, Co-Pilot, Flight Engineer and Navigator)
Cockpit textures feature wear and tear to produce an authentic environment
Cockpit lighting with atmospheric instrument backlighting
Special 'baked' textures have been used to present a well-used look and feel to the cockpit area and controls
Fully modelled Flight Engineer station with fuel, engine, electrical, anti-ice and hydraulic controls (automatically configured in a 'ready for take-off' state when the aircraft is first loaded, allowing you to get airborne within seconds)
Many features have been added to help with usability such as a switch to hide the control yokes for a better view of the instruments and pre-set angled views for the overhead panel, centre pedestal and Flight Engineer station
Animated Captain's arm-rest for improved visibility of centre pedestal
Ability to integrate third-party weather radar
Split flap/slat lever with the ability to extend slats without deploying flaps
NAV 1/2 and ADF 1/2 radios feeding CDIs, VOR and ADF indicators for easy navigation
GPS unit included for easy navigation
Numerous warning annunciators will illuminate on fault detection and a functional engine fire warning and protection/extinguishing system are built into the cockpit
Animated cockpit side windows

SYSTEMS

Custom-coded fuel system with wing and centre tanks, fuel transfer and jettison, cross-feed and LP/HP cock controls
Custom-coded autopilot with pitch and bank hold, ability to navigate via VOR/GPS and autothrottle with IAS/MACH hold capabilities
Thrust-reverse system which, like the real aircraft, is only available on outboard engines
Realistic trim lever operation with rate of tailplane movement proportional to the rate of trim lever displacement from the central position
Aircraft configuration system that will allow you to choose between 'cold & dark' or 'ready for take-off'
Fully compatible with default control assignments (lighting controls, autopilot controls, HP cock levers etc.) and [CTRL]+[E] autostart
Realistic engine start procedures using ground air supply and cross-bleed
Simulated powered flying control units (PFCUs) – loss of electrical power or manual isolation of PFCUs will render flying controls (ailerons, elevator, rudder and spoilers) inoperative, as in the real aircraft. Each control surface can be individually isolated.

LIVERIES

This VC10 Type 1101 is supplied in the following ten liveries:

British Airways G-ARVM (circa 1976)
British Airways G-ARVM (red tail)
BOAC G-ARVF (circa 1964)
BOAC G-ARVC (circa 1966)
BOAC G-ARVC (circa 1974)
Gulf Air A40-VI
Gulf Air A40-VK
Just Flight house livery
Nigeria Airways 5N-ABD
Government of the United Arab Emirates G-ARVF

OTHER FEATURES

Realistic and accurate flight dynamics based on real-world performance and handling data, and input from ex-VC10 crew
The distinctive Rolls-Royce Conway engines have been captured to give the utmost realism in full stereo
Comprehensive manual with panel guide and tutorial
PSD Paint Kit included so you can create your own paint schemes
Customer Reviews
Rated 5.0/5.0 based on 1 customer reviews
09/03/2018

5

/

5

Verified Purchase

The attention to detail is second to none well done Devs
Submit a review of this product
Customers Also Purchased