VC10 Jetliner for FSX/P3D

1 reviews


This addon is compatible with
Microsoft Flight Simulator X
. It should also work with
Microsoft Flight Simulator X: Steam Edition
. Some developers have explicitly stated compatibilty with Steam Edition but others haven't. Check the product description below for guaranteed compatibility. Just because it doesn't mention it, this does not mean it will not work with the
Steam Edition
.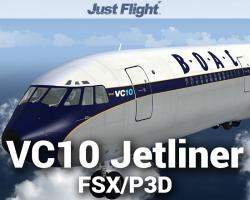 Media Format

Immediate Download

Compatibility

Microsoft Flight Simulator X inc. Steam Edition & Prepar3D (all versions including v4)

File size

432 MB
For many flight simulation enthusiasts, the VC10 aircraft is among their most popular.
It's seen as a graceful and still wonderfully modern jetliner and holds a strong reputation among aviation fans. Designed by Vickers-Armstrong, it's a long-distance aircraft that handles flights from the United Kingdom to Africa, for example. It's long-distance capability alongside an ability to fly at high altitude – and land on precariously short runways – made it the perfect aircraft.
Indeed, this delivered a hugely impressive aircraft in both performance and pace. Capable of hitting speeds superseded only by the Concorde in terms of jet airliner speed, the VC10 is a hugely enjoyable aircraft to fly.
With many new features included to help makes this FSX/P3D add-on feel as realistic as possible, users can enjoy having access to many more essential cockpit controls.
From easier handling of every aspect of the flight to key supporting components added in, you can enjoy a much more harmonious flying experience with ease.
For those who wish to try out the VC10 from a more realistic perspective, this add-on includes both visual and performance-based improvements for you to enjoy.
What's New?
A fresh new model designed to perfectly capture the interior and exterior of the aircraft, modeled on the Type 1101 model.
Built using real-world aircraft plans, ensuring that all parts of the aircraft remain operational.
Fresh new animations for key parts of the aircraft, including flaps and slats, tailplanes, doors, and even windshield wipers.
Working pilots who move around and provide an animated, lifelike experience in the cockpit.
Fully operational taxi and landing lights to help make sure you can land with precision and safety.
Working ground equipment provided, such as air stairs and baggage carts included.
Modern specular and bump mapping on all parts of the aircraft model, adding realistic lighting effects to all surfaces on the aircraft. Included for all liveries.
Completely new 3D cockpit with hundreds of usable switches, knobs, and levers fully working for your usage.
Flight crew positions – Captain, Co-Pilot, Flight Engineer and Navigator – all have their own respective slots.
Flight Engineer station includes fuel, engine and electrical systems alongside anti-icing and hydraulic control schemes.
New flight control features such as control yoke hiding and pre-set camera angles for better views of key parts of the cockpit.
Compatible with third-party weather radar systems.
New NAV and ADF radios, all feeding CDI/VOR/ADF indicators for easier, smarter navigation. GPS unit included too.
Warning systems will help to deliver a better warning about any potential issues over engine fires and similar.
Authentic flight dynamics tailored to make sure the VC10 jetliner is as challenging to fly as it should.
Delivered using information and testing from the former ex-VC10 crew as well as numerous performance and handling data analysis.
What's Included?
A fully operational new fuelling system, custom coded to work with both wing and central tanks, fuel transfer and jettison systems.
New co-pilot features added in with pitch and bank hold, as well as the ability to make use of navigation via VOR/GPS as well as auto-throttle.
Thrust-reverse systems included helping make sure outboard engines provide a real-life feature.
New aircraft configuration system allows for easy 'Cold/Dark' or 'Take-off' options.
Work will default control systems such as autopilot controls, lighting controls, etc. without issue.
New engine start-up procedures can make use of ground air supply and cross-bleeding.
New simulated powered flying control units will ensure that electrical loss of power can pose a real threat to the safety of your flight.
New sounds unique to the Rolls Royce Conway engine which is present within the aircraft, adding that dynamic sound the engine brand is so well-known for.
A fully detailed manual that makes it easy for you to get the right advice and information on how to use your VC10.
Users will also have access to a series of specific liveries made for the VC10 Type 1101. These include:
British Airways G-ARVM 1976.
British Airways G-ARVM Red Tail.
BOAC G-ARVF 1964.
BOAC G-ARVC 1966.
BOAC G-ARVC 1974.
Gulf Air A40-VI.
Gulf Air A40-VK.
Just Flight.
Nigeria Airways 5N-ABD.
Government of the United Arab Emirates G-ARVF.
A unique paint kit to create your own bespoke paint schemes for usage.
Customer Reviews
Rated 5.0/5.0 based on 1 customer reviews
09/03/2018

5

/

5

Verified Purchase

The attention to detail is second to none well done Devs
Submit a review of this product
Customers Also Purchased