A319 Jetliner for FSX

1 reviews

This addon is compatible with
Microsoft Flight Simulator X
. It should also work with
Microsoft Flight Simulator X: Steam Edition
. Some developers have explicitly stated compatibilty with Steam Edition but others haven't. Check the product description below for guaranteed compatibility. Just because it doesn't mention it, this does not mean it will not work with the
Steam Edition
.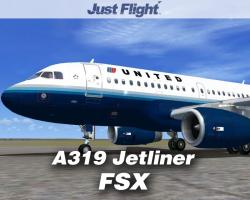 Media Format

Immediate Download

Compatibility

Microsoft Flight Simulator X

File size

205 MB
As one of the most prominent names in the flight simulation modification community, Just Flight has completed another spectacular addition to their list. The A319 Jetliner is one of the most popular aircraft out there at the moment for users, due to its small size and balanced performance making it a great choice. Perfect for flying over short-to-medium length distances, its low passenger density makes this a fine pick for anyone who wants to try and master the flight simulator of their choice in a user-friendly aircraft.
Developed exclusively for use with Flight Simulator X, this package is also part of the hugely popular F-Lite series of aircraft released by Just Flight, giving you stunning and realistic detail levels and textures that go far beyond the capabilities of the original models in the game. Additionally, you get access to a whole new cockpit style that has been made from the ground up to suit the same style and theme of the real thing.
As you might imagine, the design style itself is based entirely on the real thing – it's made to look genuine and takes in all of the smallest details to combine and perfect the look, shape, feel and characteristics of the A319 in real life. The exterior model has undergone some serious re-construction, using hours of footage and information to come up with the most genuine look and feel of the aircraft that the simulator can handle.
The new interface mentioned above has been added in to give you absolute functionality over your performance in the skies – it's been designed in a way that utilizes all that is good about the A319 and gives you total control over it. Additionally, an entirely bespoke creation of the Multi-functional Control Display Unit used within the real A319 jetliner gives you the power to adjust every little tweak and fixture in the aircraft to your own liking.
In total, this gives you an entirely new look for your aircraft selection and makes flying your favorite planes in-game easier than it's ever been in the past with flight simulation software. If you are a big fan of the 319 then you'll need to try out this masterpiece design of the real thing. from every little rivet and bolt included in the design to the most obvious technical inclusions in the cockpit, this gives you everything.
Key Features
Aside from the totally reworked style and quality of the actual aircraft design, this package gives you complete access to new features in the simulator that usually would be dumbed down or not available at all – this gives you unprecedented understanding of the aircraft and what you should be doing with it at any given time

Based on the CFM56 and the V2500 engine models, ensuring that you have an aircraft that performs and feels like the real thing rather than just being an aesthetic imitation of the real thing – accuracy is guaranteed in every section that's available

Customized flight dynamics have been included, ensuring that are all weight stations and fuel stations are based on actual reference detail and information from the real thing – realism is so important to this package, and this helps it feel realer than ever!

New bump maps made from scratch to make each and every livery design feel completely authentic – from the smallest markings to the largest and most obvious HD inclusions, this pushes the graphical capacity of the simulator to the very highest levels

Sec mapping to ensure that the light effects look the very best that they can, and to ensure that the aircraft carries the real authority and style that it's supposed to when you are up in the air. Utilizes the power of DIRECTX10 to ensure that the aircraft really has all of the realistic lighting and shine from the environment around it that it would in the real world

Four unique liveries included that ensure you have a design that suits your own preferences – from the Air France and British Airways equivalents to the Lufthansa and United Airlines gives you all of the colors and styles that you would want from a quality aircraft, giving you variety as well as class

Completely re-altered animations that include everything from the passenger doors and cargo doors operating as the aircraft flies, making the aircraft itself feel alive, to the rotating wheels and engine fans becoming engaged and active when you are taking off and flying. It's these small inclusions and changes that make all of the difference to your own flight experience, making it easier than ever before to get truly engaged in the flight and really feel the part

Additionally, some of the surfaces of the aircraft have been animated – such as the flaps, elevators, spoilers and other smaller effects to make the aircraft feel as real as it possibly can without ever slowing down or hampering performance

Full panels included within the cockpit to give you maximum control over the aircraft, giving you total control over flight performance and flight planning. Things like SIDs and STARs can be easily utilized from the cockpit with just a few clicks of the mouse, and you also get to actively view things like progress displays and waypoint selections so that you can totally understand the flight path, and manipulate the path to ensure you get there on time & with enough fuel

Totally modified interior of the aircraft aesthetically and in terms of performance to give you an aircraft that behaves as it's genuine equivalent – from fuel estimates and speed calculations all moving and adjusting to the flight and the progress made, you can make it easier than it ever has been to balance your own performance and to become a better pilot

Close attention to detail paid when designing the flight planners so that they give you the realistic approach to using a flight planner in the real A319 – this gives you better control than ever before in the cockpit
Customer Reviews
Rated 3.0/5.0 based on 1 customer reviews
12/17/2019

3

/

5

Verified Purchase

Standard 2D panel, the sounds are rather blagh...the 3D panel is hard to read unless you have it zoomed up a lot.

Granted it is a low price, even for a product that is dated, so in that regard it would be just fine for a beginner
Submit a review of this product
Customers Also Purchased