This addon is compatible with
Microsoft Flight Simulator X
. It should also work with
Microsoft Flight Simulator X: Steam Edition
. Some developers have explicitly stated compatibilty with Steam Edition but others haven't. Check the product description below for guaranteed compatibility. Just because it doesn't mention it, this does not mean it will not work with the
Steam Edition
.
Sound Pack Compatibility Note: This sound pack will work with any aircraft model, both freeware or payware in FSX and P3D.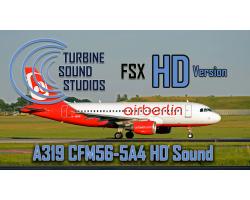 Media Format

Immediate Download

Compatibility

Microsoft Flight Simulator X inc. Steam Edition and Prepar3D (all versions including v4)

File size

80 MB for FSX
For fans of the Airbus series, one thing that has regularly been noted in the past is disproportionate quality of the aircrafts sounds in comparison to its looks. Whilst the performance and the feel of many Airbus aircraft within FSX and FS2004 is very impressive – including the Airbus A319 – the sounds don't quite live up to expectation.
Whether you want to learn from the simulator or just have some fun getting a real challenge when flying, the lack of authentic and accurate sounds & warnings can really kill the experience. Thankfully, all is not lost thanks to the excellent Turban Sound Studios.
An expert part of the ever growing flight simulation community, the TSS has been the founder of many high-end HD audio packages that cover everything you could possibly need. This creates a faithful reenactment of the CFM56-5-4B sound package that is used within an Airbus A319, and ensures you get the most accurate sound and response from the aircraft possible.
Recorded in the highest possible quality, every sound is crisp and easy to make out as well as accurate in what it says. Whether it's a warning from the cockpit or just the wind howling, you'll hear it clearly!
Key Features
Designed specifically for the Airbus A319, this package takes on all of the necessary characteristics to work in this capacity. It gives you all the help that you need in truly understanding how to take things forward, creating a far more engrossing atmosphere that will keep you well occupied!
A whole host of sounds have been re-managed and created fresh for this mod specifically including;
Engine sounds from both inside and outside the cockpit

General cockpit atmosphere and environment noises

The elements outside, particularly the wind as you pick up speed

Gear sounds that remark whether you moved up or down a gear

Warning signs and call-outs to help keep you away from things like stalling or speeding

Additionally, it also covers you for if you try and fly with the landing gear still up, or have turned off the autopilot feature

All of this is represented in the most authentic 3D sound, created using 3D soundcones that envelope the sound in the way that you would have imagined it doing so in the real world. Whilst not everything can be quite as authentic as reality, this package does the best job it can of trying to

All in all, this creates a far more thorough flight experience that will ensure you are able to fly an Airbus A319 with the knowledge that your aircraft will be responding to any needs it has through the medium of sound. Keeping an eye on things and staying on-course for success has never been easier when flying an aircraft
Whilst you might be used to looking at the sights in front of you, being able to learn the key characteristics of flying an aircraft and actually getting it right can be a hugely impressive feature that'll help you improve massively
Submit a review of this product