This addon is compatible with
Microsoft Flight Simulator X
. It should also work with
Microsoft Flight Simulator X: Steam Edition
. Some developers have explicitly stated compatibilty with Steam Edition but others haven't. Check the product description below for guaranteed compatibility. Just because it doesn't mention it, this does not mean it will not work with the
Steam Edition
.
Sound Pack Compatibility Note: This sound pack will work with any aircraft model, both freeware or payware in FSX and P3D.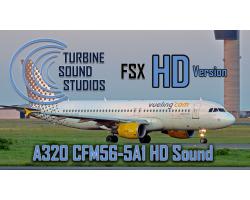 Media Format

Immediate Download

Compatibility

Microsoft Flight Simulator X inc. Steam Edition and Prepar3D (all versions including v4)

File size

80 MB
When it comes to being able to take on a flight simulator properly, you need to actually take the time to learn what is going on at all times. Just like learning any other kind of simulation, though, you need to rely upon it being as real as it most likely can.
Without realism you can only hope to learn so much; this is why the thriving flight simulation community are so important. They help to break that barrier down and ensure that people are going to be noticed far more comfortably, taking the flight simulator beyond its normal capabilities.
By doing so, mods such as this can become an invaluable learning curve for any flight simulation fan. Taking on the next level of education in flight simulation requires you to look beyond what is obvious and displayed right in front of you, and replace it with being able to understand what is going on all around you.
To do this, you need to really be able to understand the sounds of both the world around you and the aircraft itself. Getting there can take a lot of effort, but this mod gives you a far more realistic sound package that is just perfect for helping you learn more effectively.
This package – part of a long chain of high-end Turbine Sound Studios modifications - gives you a whole new range of sounds specifically for the Airbus A320. This gives the aircraft a whole new boost and makes it far more comfortable to fly, especially when you start getting used to its various features and what information the sounds you are hearing are actually relaying to you.
Key Features
By revolutionizing the sound system for this aircraft, you get something far more effective to actually learn from as it improves the overall realism of the project quite dramatically

A huge part of any pilot's typical career will be getting used to the warnings that an aircraft provides you with. As a human you will make mistakes, but the brilliant HD recorded warnings will give you accurate details about what is going on. Whether you are flying too fast, are about to stall, or are even close to crashing the aircraft entirely you will be given a prompt and concise warning that you simply cannot miss

The clear nature of the audio comes from the fact that it's been created using hours of comprehensive study and research, and then mastered completely to help it manage your aircraft perfectly

Most importantly, though, this package gives you a much more active cockpit – this is the most important thing to get used to. The internal and external engine sounds, as well as the wind sounds, all come together as one and are magnified by the constant warnings and various goings on within the cockpit
Best of all, though, are the introduction of full 3D soundcones that really manage to capture the essence of what the sound would be like both inside and outside the cockpit
Submit a review of this product